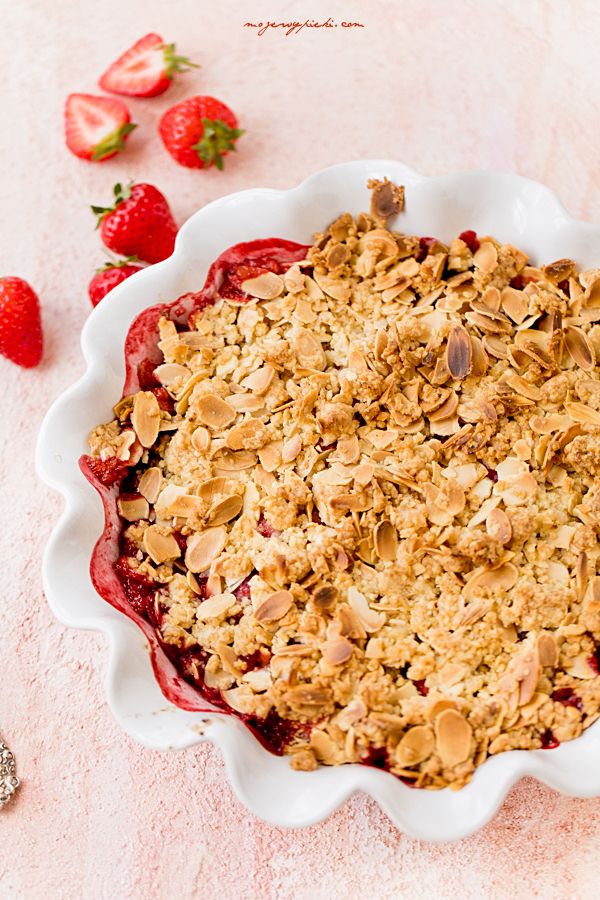 Fast. Simple. Delicious. It may not be the best-looking dessert, but you will make it again and again… Strawberries covered with almond crumble. Serve with whipped cream.
Ingredients for the almond crumble:
110 g plain flour
75 g butter
60 g demerara sugar
100 g almond flakes
Melt the butter. Add in plain flour and sugar, mix with a fork until combined. Add in almond flakes, mix.
Ingredients for the strawberry filling:
500 g strawberries
1 Tbsp sugar (or more)
25 g ground almonds
4 tsp vanilla extract
Place all the ingredients into a baking dish (22 cm in diameter) and mix. Sprinkle with almond crumble.
Bake at 180°C for about 30 minutes. The crumble should be golden brown and the strawberry juice should be boiling on the sides of the dish.
Serve with a cup of whipped cream.
Enjoy!
Source of recipe – "Kitchen. Recipes from the heart of the home. " by Nigella Lawson, with some of my changes.