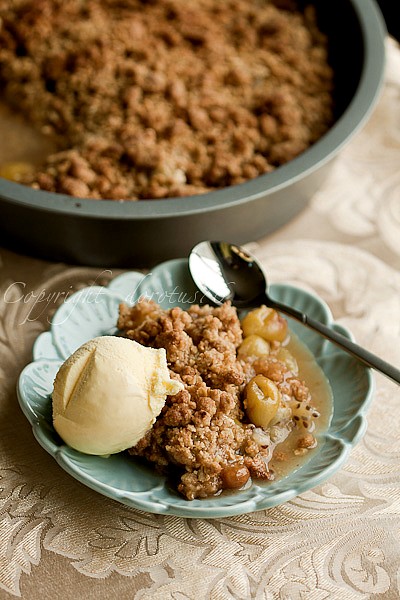 Celebrate the beginning of gooseberry season by making a delicious gooseberry crumble. This recipe for gooseberry crumble is really easy to follow. Tastes great with an ice cream. Simplicity at its best.
Ingredients:
700 g gooseberries, destalked + 150 g demerara sugar
120 g butter
70 g plain flour
80 g plain wholemeal flour
50 g oats
120 g demerara sugar
1 tsp cinnamon
Toss the gooseberries with the 150 g of demerara sugar and spread in the bottom of a medium ovenproof  21 cm baking dish.
Put the both flours and oats into a large mixing bowl. Add the cinnamon, 120 g of demerara sugar and butter, and lightly rub the butter into the mix with your fingertips until it resembles coarse breadcrumbs.
Sprinkle the crumble on top of the fruit.
Bake at 180°C for about 35 minutes or longer. The crumble should be golden brown and the filling should be bubbling when ready. Serve hot with vanilla ice cream.
Enjoy!