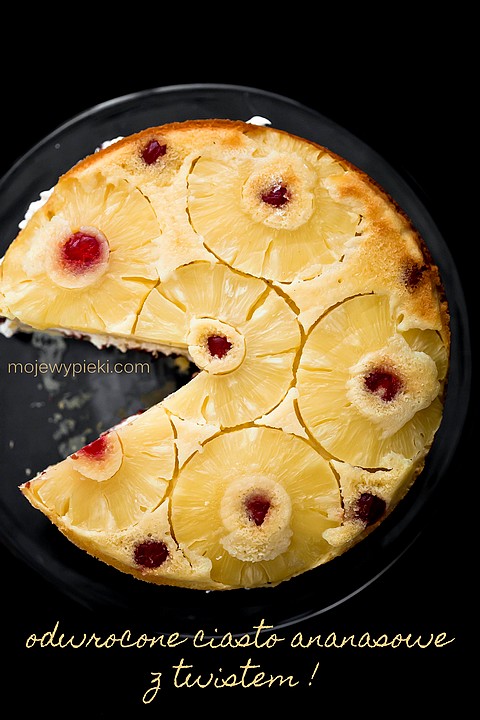 The famous, old-fashioned American classic – "pineapple upside-down cake". I think that if I spent my childhood in the USA, this cake would definitely have been my favourite dessert :-). The pineapple rings are placed on the bottom of the baking tin and then the cake is flipped upside-down after it's been baked. I added some whipped cream and cherry jam sandwiched between two layers of sponge. The pineapples and cream really make the cake something special. Try it out!
Ingredients for the cake:
250 g butter
180 g caster sugar + 2 Tbsp
1 can canned pineapple rings
a few cocktail cherries
300 g plain flour
2 tsp baking powder
1 tsp vanilla extract
4 large eggs
All ingredients should be at room temperature. In a bowl, sift the plain flour and baking powder, put aside.
Drain the juice out of the pineapple can into a separate bowl. Using a paper towel, dap the pineapple rings to remove excess juice. Put aside 100 ml of the pineapple juice for later.
Line the bottom of 2 round cake tins (20 cm in diameter) with baking paper. Sprinkle the bottom of one of the tins with 2 Tbsp of sugar. Place the pineapple rings on the sugar, placing a cherry in the centre of each one.
In a mixing bowl, place the butter (it must be quite soft, you can soften it in the microwave), sugar, sifted flour and baking powder, 100 ml pineapple juice, vanilla extract and eggs. Using an electric whisk, beat to a soft consistency.
Divide the cake batter evenly between the two cake tins. Make sure that the batter covers the pineapple rings evenly.
Bake at 170ºC for about 30 minutes, or longer, until a skewer inserted into the cake comes out dry. Take the cake tins out of the oven, wait 5 minutes, then turn the cakes upside-down so that the bottom is now on top. Leave to cool.
Ingredients for sandwiching the cake:
6 Tbsp cherry jam
250 ml whipping cream, chilled
1 Tbsp icing sugar
Whip the whipping cream until stiff. At the end of whipping, add in the icing sugar.
Place the sponge layer with no pineapples on a cake stand. Spread with cherry jam and whipped cream on top, level out. Sandwich with the sponge layer that has the pineapples on top.
The cake is best served on the day it is baked or the following day.
Enjoy!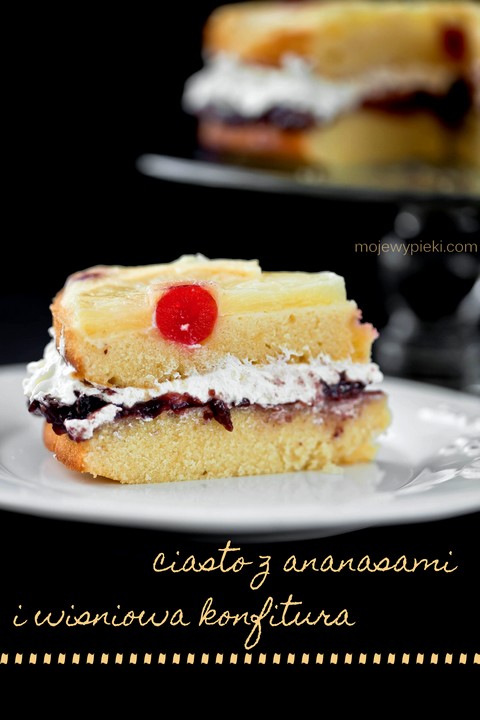 Source of recipe – the magazine, 'GoodFood'.