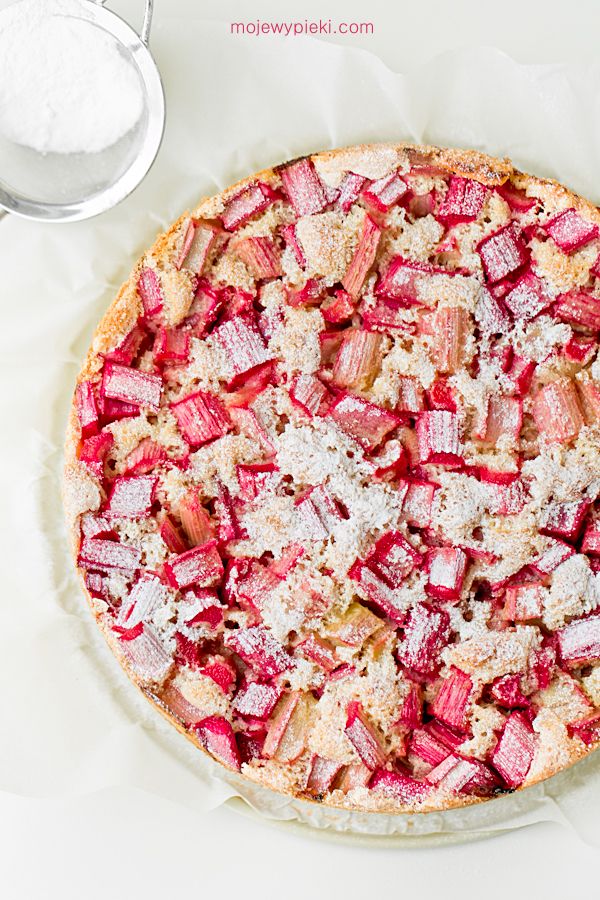 Light and fluffy sponge Swedish rhubarb cake. No baking powder needed, extremely simple and foolproof to make. Butter baked with sugar creates a delicious, slightly crunchy crust on the top of the cake :-). This recipe was sent by Margaret (thank you).
Ingredients:
400 g rhubarb
2 eggs
100 g caster sugar
100 g plain flour
50 g unsalted butter, chilled
pearl sugar or demerara sugar, for sprinkling
All ingredients (except for butter) should be at room temperature. Trim the rhubarb and cut into 1 – 2 cm pieces.
In a mixer bowl, beat eggs with sugar until light and creamy (eggs volume will increase almost three times). Sift the plain flour directly into the batter. Mix with spatula just to combine.
Prepare a baking pan with a diameter of 22 cm lined with baking paper. Pour the batter into the prepared pan, spreading the top into an even layer with a spatula. Scatter pieces of rhubarb evenly over the top of the cake. Place the slices of the chilled butter evenly on the top and sprinkle with some pearl or demerara sugar.
Bake at 175ºC for about 45 minutes or longer, until a skewer inserted into the centre of the cake comes out clean. Remove from the oven, cool. Dust top of the cake with icing sugar and serve with whipped cream or ice cream, if desired.
Enjoy!