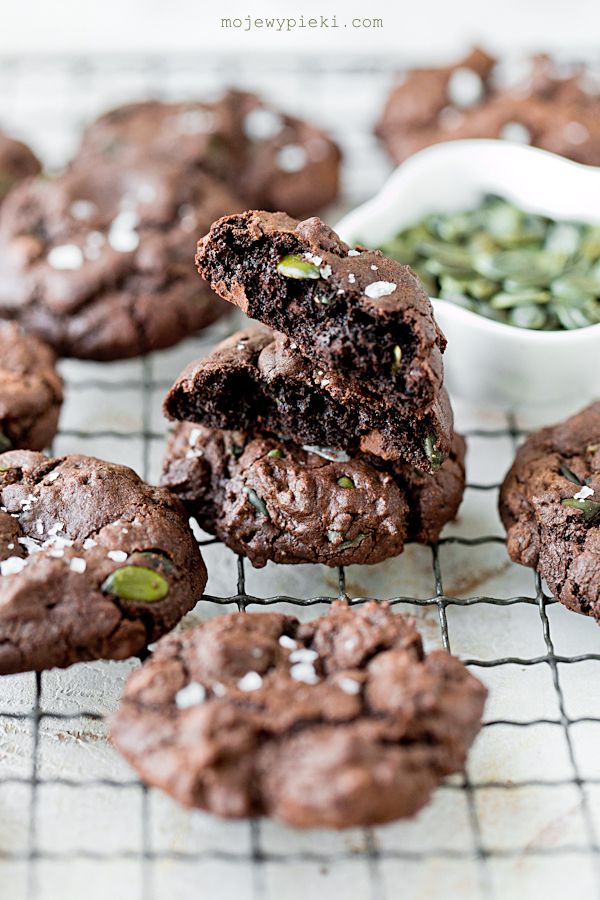 These are one of the best chocolate cookies I've ever made. Straight from the oven, they taste like hot and chewy pieces of brownies, with chocolate melting inside. Addition of sea salt adds a nice and subtle flavour to these cookies. This is a very versatile recipe: you can substitute the pumpkin seeds with sunflower seeds, add shredded coconut, dried cranberries or nuts. Enjoy them with coffee or tea while still warm from the oven.
Ingredients for 25 cookies:
75 g butter
100 g caster sugar
70 g soft light brown sugar
1 large egg
1 tsp vanilla extract
125 g plain flour
50 g cocoa
1 tsp bicarbonate of soda
125 g dark chocolate chips or chopped dark chocolate
50 g pumpkin seeds
sea ​​salt, for sprinkling
All ingredients should be at room temperature.
Cream the butter and both sugars together in a bowl until pale and fluffy. Add the egg, vanilla and beat well. Add the plain flour, cocoa and bicarbonate of soda, mix to combine. Fold in pumpkin seeds and chocolate chips.
Line 2 baking sheets with baking paper. Drop dough by rounded tablespoons onto cookie sheet leaving a few cm spaces between them. Sprinkle with sea salt.
Bake at 160ºC for 10 – 12 minutes. Cookies will still feel soft and the surface of the cookies will be just set and cracked in parts. Take them out of the oven, leave on the tray for a few minutes, then transfer to a wire rack to cool.
You can store them up to 7 days at room temperature in a tin.
Enjoy!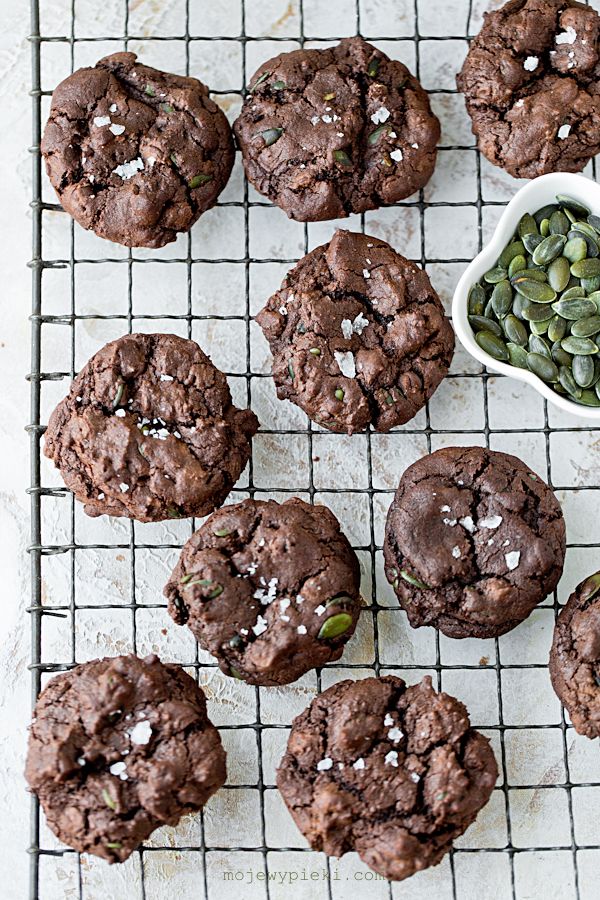 Recipe source – "At my table" Nigella Lawson.