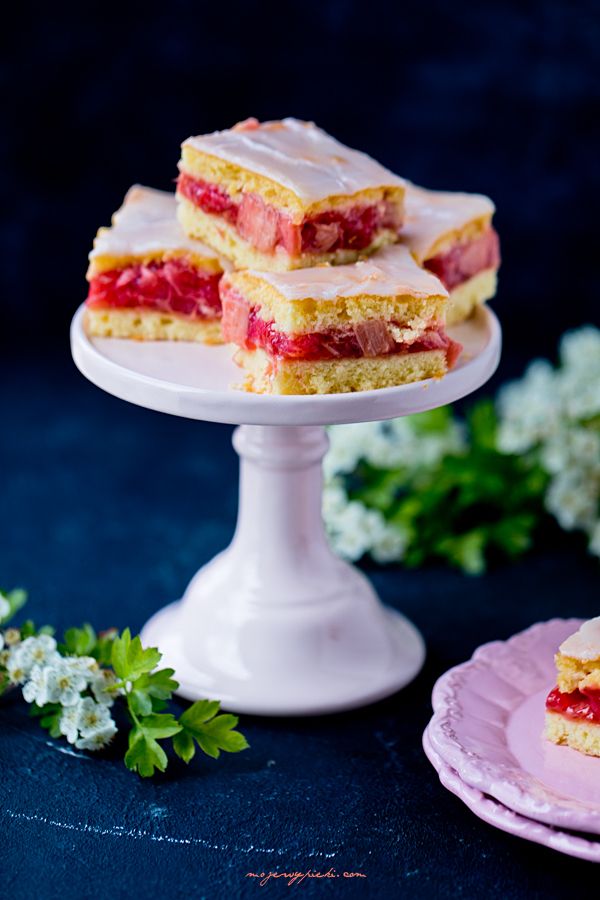 A delicate and fluffy cake with a delicious rhubarb filling. The cake is wonderful! Very moist, and so fruity. Although it is quite a big cake, it all disappeared in one afternoon, thanks to my family. You will want to make it over and over again!
Ingredients:
5 large eggs
3/4 cup caster sugar
120 ml rapeseed or sunflower oil
50 ml milk
250 g plain flour
1 tsp baking powder
All ingredients should be at room temperature.
In a mixing bowl, add in the eggs (don't separate into egg whites and egg yolks) and sugar. Beat until a thick and fluffy – the mixture should increase in volume almost three times. Pour in oil, then slowly the milk, beating. Directly into the mixture, sift in the flour and baking powder and mix using a spatula.
Line a 24 x 34 cm cake tin with baking paper. Pour in half of the batter into the tin, level out. Bake at 175°C for about 15 minutes or until light brown. Check if the cake is ready – it should be almost baked, but not raw. Remove from the oven and add the rhubarb filling on top (recipe below), align. Pour the rest of the batter over the filling, level out. Bake another 30 minutes at 175°C or until a stick inserted into the cake comes out dry.
Remove from the oven, cool completely . Then, pour the icing on the cake and cut into squares.
Rhubarb filling
900 g rhubarb cut into 2 cm cubes (don't peel the rhubarb)
200 g strawberries, cut into smaller pieces
165 g (3/4 cup) caster sugar, or a little less
juice from half a small lemon
1/3 cup potato starch
In a pot, add in the rhubarb, strawberries, sugar and lemon juice. Bring to a boil and cook for a few minutes to slightly soften the rhubarb (however don't overcook it, the rhubarb shouldn't fall apart).
In a cup, mix together the potato starch with a few tablespoons of cold water. Add into the soft rhubarb filling and mix, bring to a boil. It should have the consistency of custard. Remove from the hob, cool.
Icing:
1 cup icing sugar
3 Tbsp boiling water
Mix together the icing sugar with the water, using the back of a spoon. If the icing is too thick, add more water and if the icing is too thin, add more icing sugar.
Enjoy!