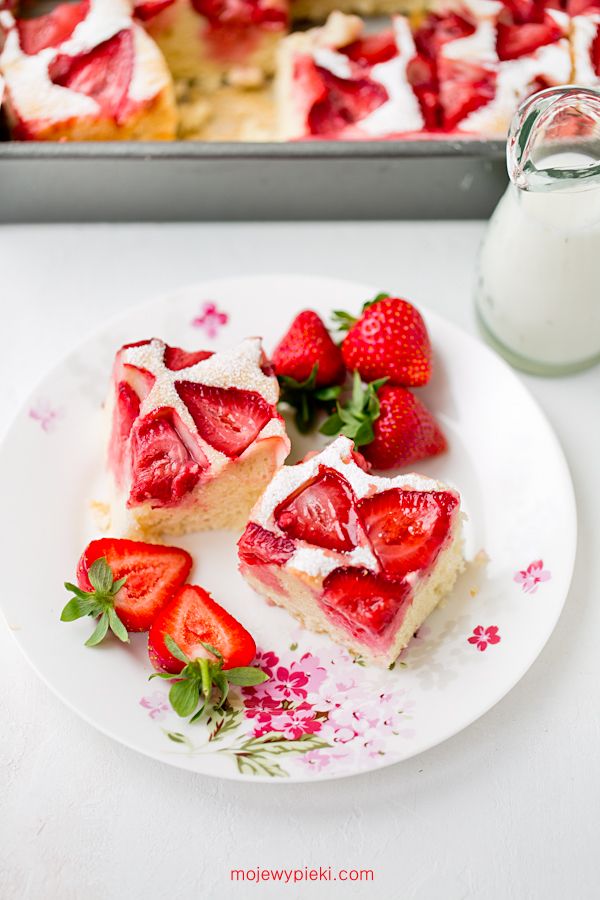 A fluffy and moist strawberry cake. A large cake that will easily cut into a lot of portions. Light; baked with rapeseed or sunflower oil and a lot of milk. Strawberries in this cake taste wonderful, they release a lot of their juice, which soaks into the cake and makes it even more moist. You can make the cake right now with the ingredients you have available at home, you only might need to buy strawberries. We just loved this cake :).
Ingredients:
4 large eggs
1 and 1/4 cup caster sugar
1 cup (250 ml) oil, e.g. sunflower or rapeseed oil
1 cup (250 ml) milk
450 g (3 cups) plain flour
1 pack of vanillin sugar (16 g) or seeds of 1 vanilla bean
2 tsp baking powder
500 – 600 g strawberries
All ingredients should be at room temperature.
In a mixer bowl, beat eggs with caster sugar and vanilin sugar until light and creamy (eggs volume will increase almost three times). Pour in the oil, whisking continuously. Then pour the milk, whisking continuously. Sift the plain flour and baking powder directly into the batter. Gently mix with spatula just to combine.
Prepare a baking pan with the bottom dimensions 33 x 22 cm, lined with baking paper. Pour the batter into the prepared pan, spreading the top into an even layer with a spatula. Put strawberries on top, hulled and halved, one next to the other.
Bake at 170ºC for about 45 minutes or longer, until a skewer inserted into the centre of the cake comes out clean. Remove from the oven, cool.
To serve, dust with powdered sugar if desired.
Enjoy!