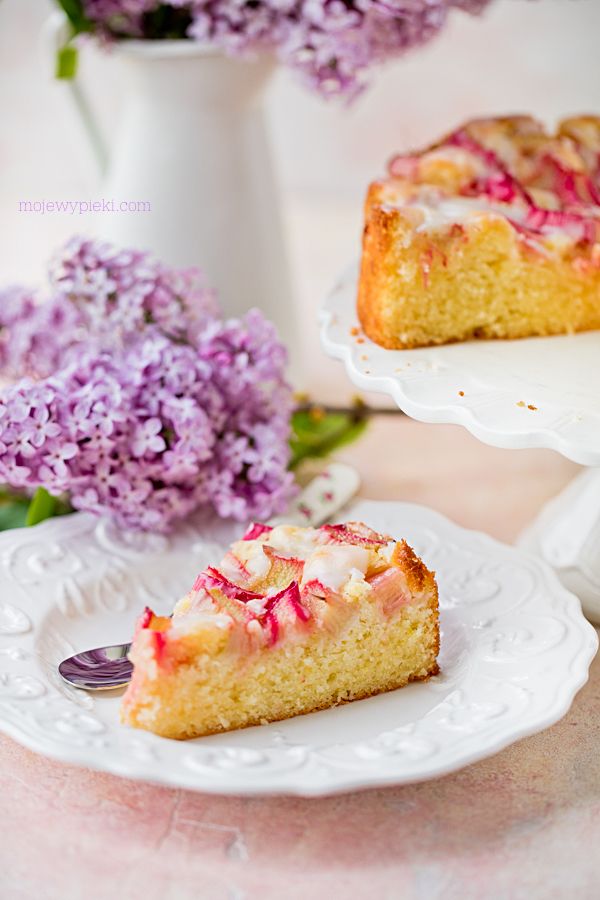 Refreshing and moist spring lemon cake dotted with tart pieces of rhubarb. Lemon and rhubarb are a great combination, although rhubarb can be replaced with raspberries or blueberries. You can't go wrong ;-).
Ingredients for the cake:
120 g butter
200 g caster sugar
3 large eggs
zest from 1 lemon
220 g plain flour
1.5 tsp baking powder
60 ml lemon juice
400 g rhubarb
All ingredients should be at room temperature. Cut rhubarb into 1-2 cm pieces (do not peel).
Cream the butter and the sugar together in a bowl until pale and fluffy. Add the eggs, one at a time, beating well after each addition (the batter will curdle slightly at this step, but it won't make any difference to the finished cake). Add in the lemon zest and mix. Add in sifted plain flour, baking powder and lemon juice. Mix with a spatula only to combine the ingredients, no longer.
Line the bottom of a 23 cm cake tin with baking paper. Place the cake batter into the tin, level. Place the rhubarb on top.
Bake at 170°C for about 40 minutes or longer, until a stick inserted into the cake comes out dry. Take it out from the oven and leave aside to cool.
Ice with lemon icing before serving.
Lemon icing:
1 cup icing sugar
3 – 4 Tbsp lemon juice
In a bowl, add in the ingredients and mix together with the back of a spoon. If the icing is too thin in consistency, add more icing sugar and if it is too thick, add more lemon juice.
Enjoy!