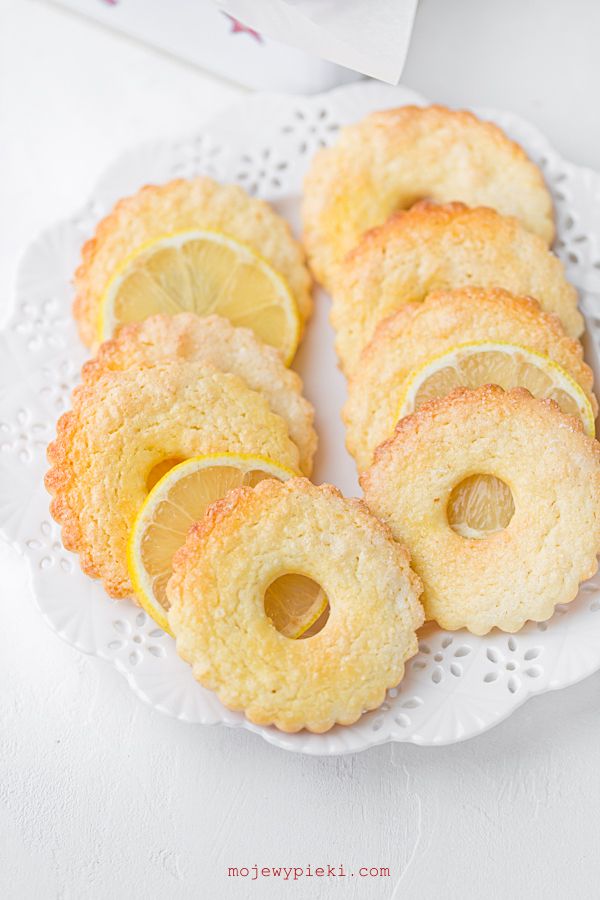 Refreshing lemon cookies that melt in your mouth… Literally one of the best cookies! Light and buttery with subtle lemon flavour.
Ingredients for 35 cookies:
130 g butter
100 g icing sugar
1 lemon
2 egg yolks
200 g plain flour
50 g potato starch
1.5 tsp baking powder
Additionally:
1 egg yolk, lightly beaten
granulated sugar, for sprinkling
All ingredients should be at room temperature. In a bowl, whisk together flour, potato starch and baking powder.
Cream the butter and the sugar together in a bowl until pale and fluffy. Add grated zest and juice squeezed from 1 lemon and beat until combined. Add the egg yolks, then dry ingredients and mix.
Wrap the dough in plastic wrap and refrigerate for 2 hours.
Transfer the chilled dough to a lightly floured surface and roll out to a 3 mm thickness. Cut out the cookies with a cookie cutter. Arrange the cookies on a baking sheet lined with baking paper and brush the tops with lightly beaten egg yolk. Sprinkle with granulated sugar.
Bake at 180°C for about 10 minutes. Cool on a wire rack.
Enjoy!
From Szellka's recipe.