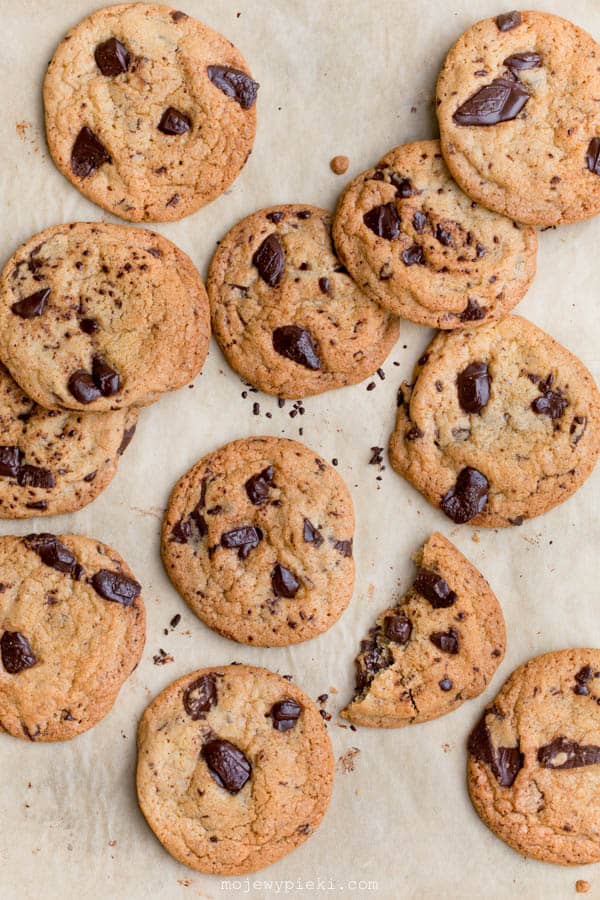 America's national chocolate chip cookies! Did you know that their history dates back to the 1940s? When preparing these classic cookies, it is important to remember a few rules, thanks to which you will bake perfect chocolate chip cookies: the butter should be very soft; the ratio of white and brown sugar is always 50:50, so that the cookies are perfectly crispy on the outside and chewy in the middle, and brown sugar additionally gives them a caramel flavour. Certainly the best chocolate chip cookies I have ever eaten and the best I have baked – I tested the recipe many times. You will fall in love with them!
Yield: 30 cookies.
Ingredients for chocolate chip cookies:
115 g unsalted butter (85 g softened and 30 g melted)
100 g caster sugar
100 g soft light brown sugar
1 tsp vanilla extract
1 large egg
200 g plain flour
1/2 tsp bicarbonate of soda
1/4 tsp salt
150 g dark chocolate chips
All ingredients should be at room temperature.
In a mixing bowl, beat the butter and both sugars together until very light and fluffy. Beat in vanilla extract and 1 large egg. Sift plain flour with bicarbonate of soda and salt into the mixing bowl and mix. Add 110 g plain chocolate chips and stir well.
Use a teaspoon to make small scoops of the mixture on the baking trays lined with baking paper, leaving enough space between each cookie to allow for spreading. Press 40 g chocolate chips into the tops of the cookies.
Bake at 175°C for about 11 – 12 minutes or until the edges become brown and firm but still soft in the middle. Leave on the tray for a couple of minutes to set and then lift onto a cooling rack.
Enjoy!