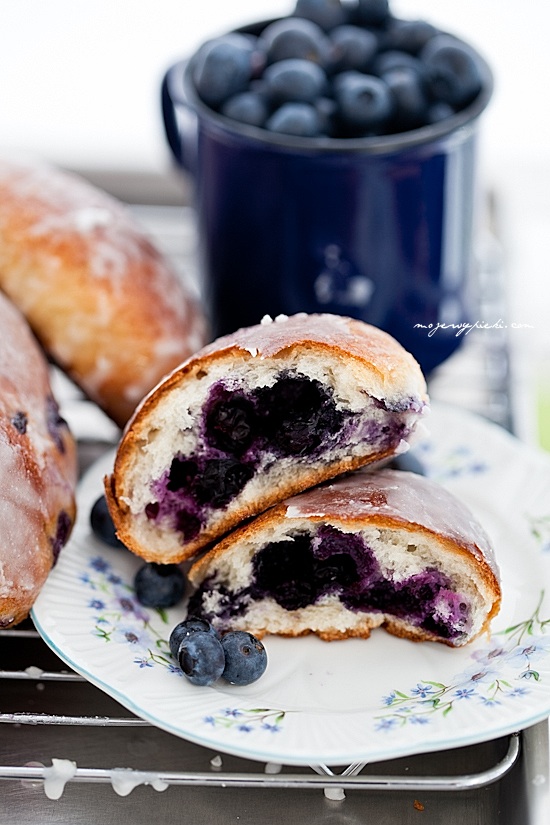 Summer isn't complete without these buns. This is probably one of my most favourite recipe for sweet polish jagodzianki. Of course, they would be perfect with wild blueberries, but I had to settle for shop-bought blueberries… It didn't take a long time to look for this recipe, because I love recipes from the reliable Tatter. I highly recommend, they are delicious!
Ingredients for 16 buns:
500 g strong white bread flour
7 g dry yeast or 14 g fresh yeast
pinch of salt
250 ml milk
1 egg
80 g butter, melted (or 60 ml sunflower oil)
half a cup sugar
8 g vanilla sugar
Ingredients for the blueberry filling:
300 g wild blueberries
3 Tbsp sugar
1 Tbsp potato starch
Mix all ingredients for the blueberry filling.
Sift the flour and mix with dried yeast (with fresh yeast, first make the leaven). Add the rest of the ingredients and knead, adding melted butter (or oil) at the end. Knead for a few minutes until the dough is smooth and elastic (even though the dough will be slightly sticky, try not to add any extra flour). I recommend using a mixer with a dough hook attachment or a bread machine. Form the dough into a ball and place it in a bowl previously sprinkled with flour. Cover and set aside in a warm place to double in volume (about 1.5 hrs).
After this time, place the dough on a floured surface and briefly knead. Divide into 16 parts, about 60 g each. Form round balls, then flatten each of them and put a full tablespoon of blueberry filling in it. Wrap the dough around the filling, pressing the edges carefully together and taking care to avoid adding a bit of flour where the dough joins together (the buns won't stick together properly and might open during baking). Place the buns on a surface with the seams of the dough facing down, then roll and shape to an oval. Place on a baking tray lined with baking paper and leave to double in volume for about 45 minutes (or longer).
Bake at 180ºC for about 20 – 22 minutes or until golden brown. Remove from the oven and cool on a wire rack. When cooled, brush with icing.
Ingredients for icing:
1 cup icing sugar
a few Tbsp hot water
Mix the ingredients with the back of the spoon. The best consistency would be icing on the runnier side; apply with a brush.
Making in a bread machine:
Place all the ingredients in the bread machine in the order: the liquids, dry ingredients and finally dried yeast (or check your owner's manual and use the order recommended specifically for your machine). Choose the dough setting and press start. When the entire cycle is finished remove the dough and continue to follow the recipe above.
Enjoy!