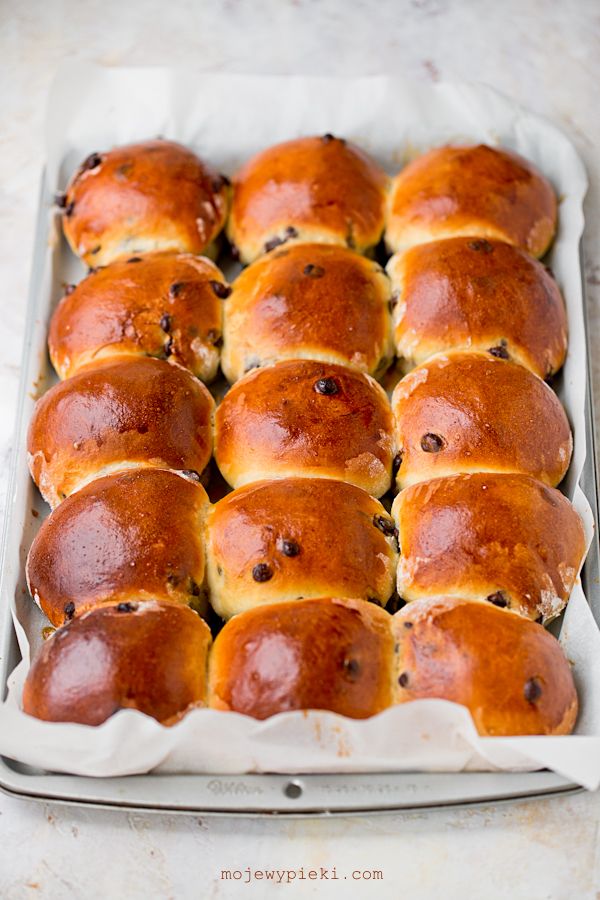 Sweet buns with chocolate chips. Fluffy, shiny, perfect with warm milk. Delicious when they're just out the oven and still warm. Great for a breakfast :).
Ingredients for 15 buns:
540 g plain flour
80 g caster sugar
3/4 tsp salt
10 g dry yeast or 20 g fresh yeast
75 g butter, melted
250 ml milk
2 large eggs
170 g dark/milk chocolate chips or dark/milk chopped chocolate
For glaze:
1 egg yolk mixed with 1 Tbsp of water
Sift plain flour and mix with dried yeast (with fresh ones, first make a leaven). Add remaining ingredients (except the butter) and knead. When the dough is formed add the melted butter and knead again. Knead until the dough is smooth, stretchy and elastic (you can knead by hands or in the bowl of your stand mixer using the dough hook). At the very end, add chocolate chips and knead again. Form the dough into a round ball and put in the lightly floured bowl. Cover with a towel and let rise in warm place until doubled in size (about 1.5 hours).
Turn the risen dough onto a floured surface. Line a baking sheet with baking paper. Shortly knead the dough and divide into 15 equal pieces (about 82 g each) and shape into buns. Put the buns onto the baking sheet leaving room for rising. Cover them with a towel and let rise in warm place until doubled in size (about 40 minutes or longer). Brush the buns with some beaten egg yolk to give them a lovely sheen.
Bake at 180ºC for about 18 – 20 minutes. Take out of the oven and cool.
Making in a bread machine:
Place all the ingredients in the bread machine in the order: the liquids, dry ingredients and finally dried yeast (or check your owner's manual and use the order recommended specifically for your machine). Choose the dough setting and press start. At the end of kneading add chocolate chips. When the entire cycle is finished remove the dough and continue to follow the recipe above.
Enjoy!