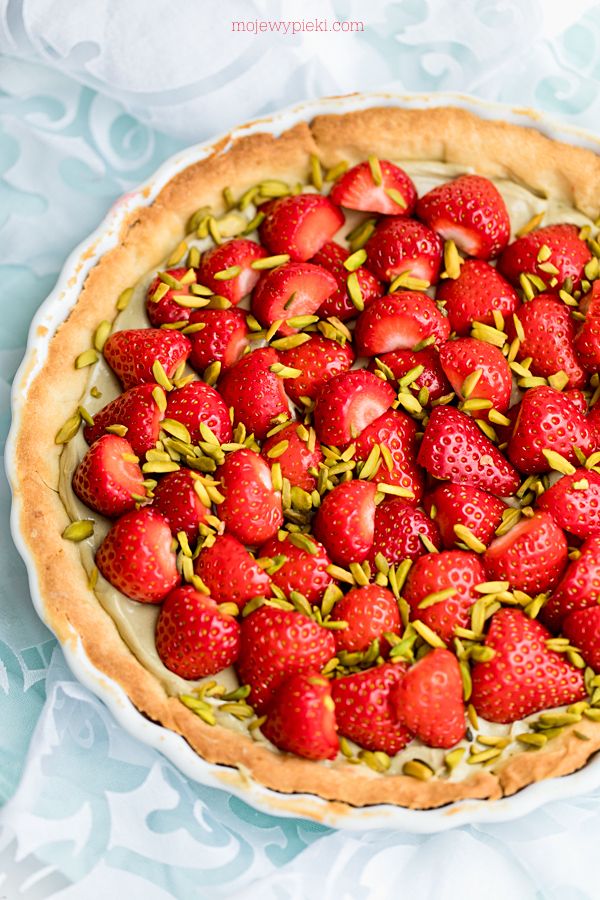 A great way to end off the strawberry season. I knew beforehand that the combination of strawberries and pistachios was going to be good, but I didn't expect it to be so tasty! The base of the tart is made from shortcrust pastry filled with the best pistachio filling made from pistachio cream and fresh strawberries – you can't get bored of these flavours. A delicious tart with creamy filling, not only aimed for pistachio lovers :-).
Ingredients for the shortcrust pastry:
200 g plain flour
90 g butter, cold and diced
30 g lard, cold and diced
60 g icing sugar
a pinch of salt
2 – 3 Tbsp cold water
In a bowl, add in sifted plain flour, butter and lard. Mix until the mixture resembles coarse crumbs. Add icing sugar, salt and water then knead very gently until the ingredients are gathered together and almost smooth (alternatively, you can use a food processor). Pat it into a flat shape, wrap in cling film and place in the fridge for 30 – 60 minutes.
Grease a tart tin (24 cm in diameter) with butter and sprinkle with plain flour. Take the pastry out of the fridge and roll it out to a thickness of about 3 mm. Then place gently into a tart tin and place back in the fridge to cool for another 30 minutes. After this time, sprinkle the pastry with plain flour and place a piece of baking paper on top. Place ceramic balls on the paper to weigh it down (you can also use dried beans or uncooked rice).
Heat the oven to 220°C. Then, lower to 200°C and put the shortcrust pastry base into the oven to bake for 15 minutes. Remove the tart pan out of the oven and take off the baking paper with the ceramic balls. Lower the temperature to 180°C and place the shortcrust pastry back into the oven for another 10 minutes, until golden brown and dry. Transfer to a wire rack and let cool completely.
Ingredients for the pistachio and mascarpone cream:
200 g pistachio cream
250 g mascarpone cheese, chilled
In a mixing bowl, add in mascarpone cheese and mix. Add pistachio cream and mix until creamy and combined.
Also:
500 g strawberries
unsalted pistachio nuts chopped (pistachio slivers)
Spread the cream on the shortcrust pastry base and lay the strawberries (cut in half) on top. Sprinkle in pistachios.
Store in the fridge. Before serving, take out of the fridge 30 minutes earlier so that the base softens slightly (the shortcrust pastry tends to harden in the fridge).
Enjoy!