An excellent and moist cherry cake. This cake contains a classic combination of cherries and almonds and is an ideal cake to serve at an afternoon tea. It is a must-have to bake in the cherry season!
Ingredients:
115 g butter
half a cup caster sugar (110 g)
2 large eggs
fresh zest from 1 lemon
juice from half a lemon
1/2 tsp almond extract
130 g plain flour
30 g ground almonds
1 tsp baking powder
300 g sweet cherries
All ingredients should be at room temperature. Pit the cherries and put aside.
In a mixing bowl, beat together the butter and sugar until light and fluffy. Add in the eggs, one after the other, whilst continuously mixing until smooth. Add in grated lemon zest, lemon juice, almond extract and mix. The cake batter may look 'broken' but this doesn't affect the cake.
Add in sifted flour, baking powder and ground almonds. Mix with a spatula just until combined. Add 250 g cherries and mix.
Line a cake tin (23 cm in diameter) with baking paper. Place the cake batter into the baking tin, level. Place the rest of the cherries on top.
Bake at 160°C for about 40 – 45 minutes, until a stick inserted into the cake comes out dry. Remove from the oven, cool.
Before serving, sprinkle with icing sugar.
Enjoy!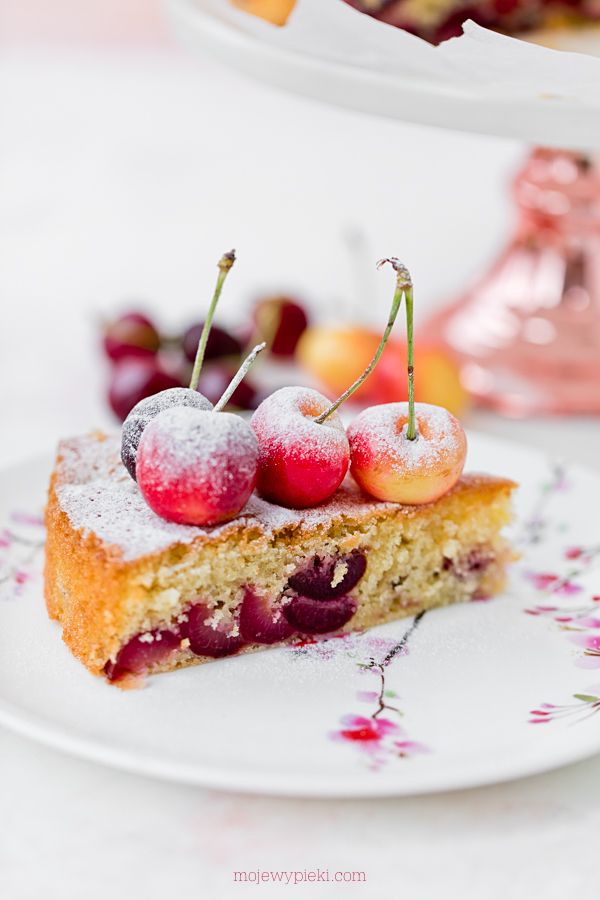 Source of recipe – Vanilla and Bean.