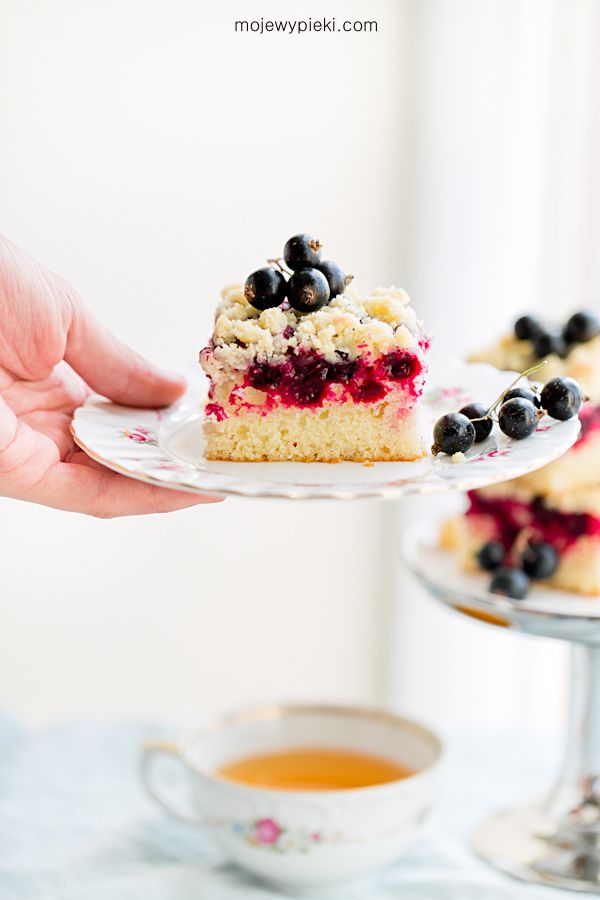 A delicate, soft and wonderful cake with blackcurrants and a lot of crumble. The cake is very refreshing and stays fresh for a long time. Sadly, the blackcurrant season is so short…
Ingredients for the cake:
140 g butter
220 g caster sugar
2 large eggs
1 tsp vanilla extract or 8 g vanillin sugar
330 g plain flour
2 tsp baking powder
half a cup (125 ml) milk
half a cup (125 ml) soured cream
500 g blackcurrants, fresh or frozen
All ingredients should be at room temperature.
In a mixing bowl, beat together the butter and sugar until light and fluffy. Add the eggs, one by one, continuously mixing until fully combined. Add vanilla extract and mix. Add in sifted plain flour and baking powder, then milk and sour cream. Mix with a spatula only to combine the ingredients, no longer.
Line a baking tin 23 x 33 cm with baking paper. Place the cake batter into, align. Sprinkle blackcurrants on top and then evenly sprinkle the crumble on it. Bake at 170ºC for 45 minutes or until a stick inserted the cake comes out dry. Remove from the oven, cool.
Ingredients for the crumble:
75 g butter, melted
150 g plain flour
75 g sugar
Place all ingredients in a bowl and rub in between your fingers to make the crumble.
Enjoy!