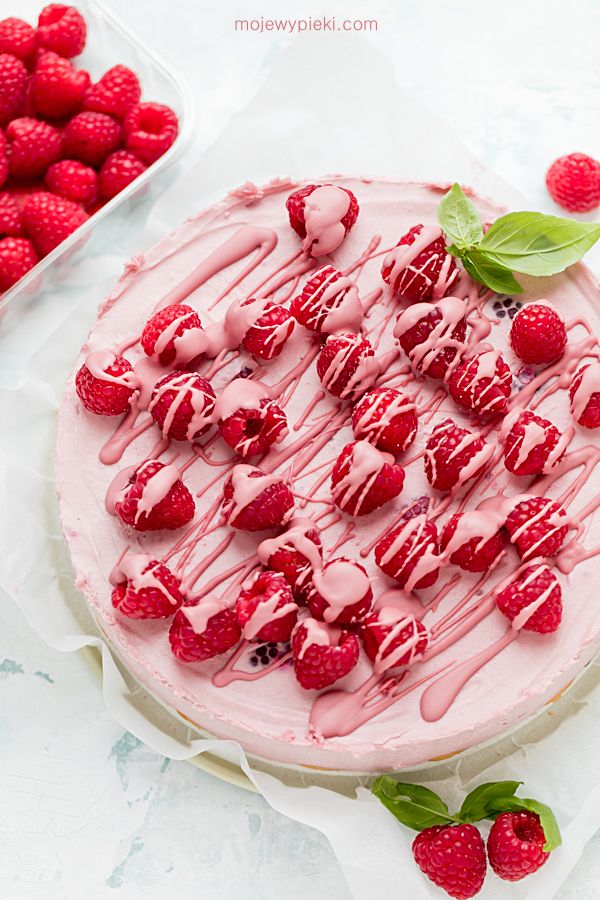 A no-bake cheesecake with raspberry puree and ruby chocolate. The raspberry flavour dominates the cheesecake and you don't have to add gelatin – the ruby chocolate naturally makes the cheesecake batter thicker. Ruby chocolate has been an ingredient in chocolate desserts around the world for two years. It's loved for its taste and beautiful pastel pink colour that comes from the ruby ​​cocoa beans. In desserts, it is often combined with raspberries (as well as with other fruit), because the flavours complement each other well. Below, I give you a recipe to incorporate this chocolate into: no-bake cheesecake. The cheesecake is delicious and tastes very fruity!

Note:

White chocolate can be used instead of ruby chocolate, but of course that will change the colour and taste of the cheesecake. You should also sweeten the cheesecake depending on the chocolate you use – ruby chocolate has a slightly acidic fruity aftertaste.
Ingredients for the base:
100 g round sponge cakes or ladyfingers
Line a baking pan (23 cm in diameter) with baking paper. Lay the bottom of the baking pan with sponge cakes, one next to another, if necessary, cutting them to the size of the pan.
Ingredients for the raspberry puree:
250 g raspberries, fresh or frozen
1 Tbsp lemon juice
50 g sugar
Put raspberries, lemon juice and 50 g sugar in a small pot and boil over low heat, stirring. When the sugar dissolves and the raspberries fall apart, place through a strainer to get rid of the raspberry seeds. Leave to cool.
Ingredients for the cheesecake batter:
350 g mascarpone cheese
80 g (half a cup) icing sugar
raspberry puree, from the recipe above
180 g ruby chocolate
125 ml (half a cup) whipping cream, chilled
300 g fresh raspberries
Melt the ruby chocolate in a water bath or microwave, cool slightly.
Place the mascarpone cheese and icing sugar in a mixing bowl. Mix until combined. Add raspberry puree and mix. Add the slightly cooled ruby chocolate and mix, only to combine the ingredients and make a smooth cheesecake batter.
Whip the whipping cream until stiff. Add it to the cheesecake batter and mix gently with a spatula. Add raspberries and mix. Pour the mixture onto the sponge cakes in the baking pan. Set aside in the fridge until completely set, preferably overnight.
Ingredients for the decoration:
200 g fresh raspberries
40 g ruby chocolate, melted
After the cheesecake has set, remove from the baking pan. Finish by sprinkling with raspberries and decorate with ruby chocolate stripes.
Store in the fridge.
Enjoy!