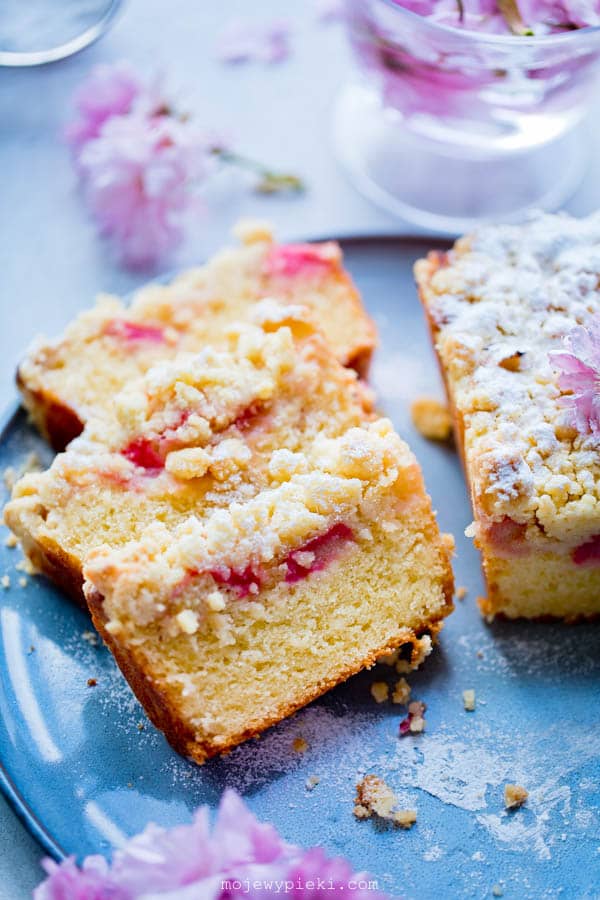 Moist rhubarb crumb cake, perfect for afternoon tea. The sweetness of the cake is broken by the sour taste of the rhubarb, and the crumble fits perfectly here. The cake is simple to make and with ingredients we usually have on hand. An absolute keeper of a recipe!
Ingredients for the crumb topping:
55 g butter
60 g sugar
100 g plain flour
In a small pot, melt the butter. Add the remaining ingredients and mix with a spoon to form a crumble.
Ingredients for the cake:
85 g butter
100 g caster sugar
1 large egg
1 yolk, from a large egg
1 tsp vanilla extract
140 g plain flour
1 tsp baking powder
80 ml buttermilk
180 g rhubarb, cut into pieces (do not peel the rhubarb)
All ingredients should be at room temperature.
In the bowl of a mixer, beat the butter with the sugar until light and fluffy. Add the egg and egg yolk, one at a time, beating until the ingredients are combined. Add vanilla and mix. Sift the plain flour and baking powder directly over the well-beaten ingredients, pour in the buttermilk and mix gently with a spatula, just until the ingredients are combined.
Line a small 21 x 11 cm loaf pan with baking paper. Transfer the batter into the prepared tin, spreading the top into an even layer with a spatula. Put the sliced rhubarb on top and sprinkle the crumble.
The rhubarb crumb cake bake at 170ºC for about 45 – 55 minutes or longer, until a skewer inserted into the centre of the cake comes out clean. Remove from the oven, cool.
After cooling, you can dust with additional powdered sugar.
Enjoy!