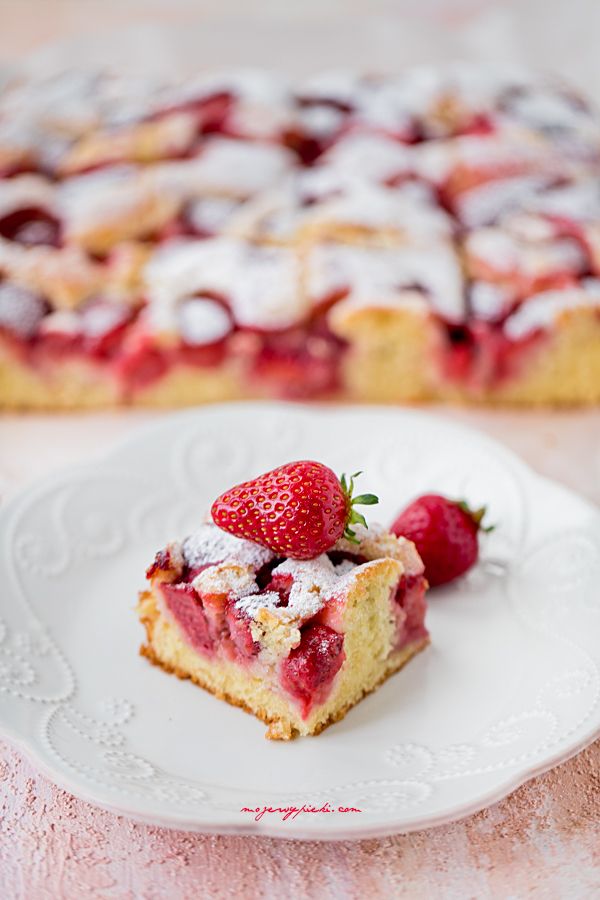 A delicious and buttery yoghurt cake. It is delicate and smells beautifully of fresh strawberries :-). A simple recipe to follow with yoghurt and fruit – you can even change it up and use other fruits that are in season! Served with a sprinkling of icing sugar.
Ingredients for the cake:
165 g butter
160 g caster sugar
8 g vanillin sugar or 1 tsp vanilla extract
3 large eggs
150 g natural or Greek yogurt
270 g plain flour
2 tsp baking powder
500 g strawberries
All ingredients should be at room temperature. Hull the strawberries and cut any larger strawberries in half.
In a mixing bowl, add in butter, caster sugar and vanillin sugar (or vanilla extract). Beat until light and fluffy. Add in the eggs one by one, mixing after adding each egg. Add in sifted plain flour and baking powder and add yogurt. Mix with a spatula only until combined, no longer.
Line a 24 cm square tin with baking paper. Put the batter into the baking tin, level out.  Place the strawberries on top.
Bake at 170°C, for about 45 minutes or longer, until a stick inserted into the cake comes out dry. Remove, cool in the tin.
Sprinkle with icing sugar before serving.
Enjoy!