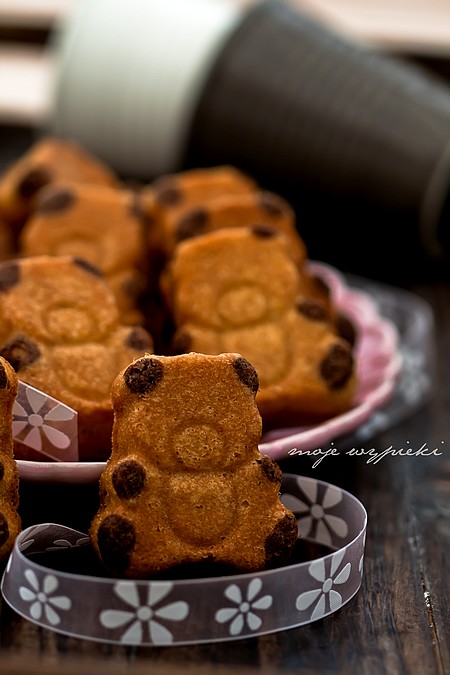 If you want more recipes for children, you don't have to persuade me anymore ;-). I went out and bought bear shaped molds to use for this recipe. I used a simple cupcake recipe. The teddy bears grow evenly in the molds, they have a delicate texture and soft and easy to add filling to. These teddy bears can be frozen and then de-frosted for when your children ask for them :). As the filling I used Nutella, because I always have it on hand, but you can also use homemade custard cream. I promise you – your children will be so happy with them!
Ingredients for about 20 teddy bears:
130 g butter
1/2 cup caster sugar
2 eggs
3/4 cup plain flour
1.5 tsp baking powder
2 tsp vanilla extract
2 – 3 Tbsp milk
Also:
a bit of cocoa powder (about 1 tsp)
Nutella, for the filling
All ingredients should be at room temperature. Sift the flour and baking powder, put aside.
In a mixing bowl, beat the butter with the sugar until light and fluffy. Add in the eggs, one after the other, beating continuously after each addition. Add vanilla extract and mix. Add the dry ingredients (apart from the cocoa powder) and milk to the butter mixture, mix with a spatula.
Take 2 tablespoons out of the mixture and place in a separate bowl, add 1 – 1.5 teaspoons of cocoa powder to it. Mix
Grease the bear-shaped molds with butter and sprinkle with flour. Shake off the excess flour. Place the cocoa mixture into a piping bag and, using a small round decorating tip, squeeze out the paws and ears in the appropriate places in the molds. Place the vanilla mixture in a piping bag and squeeze into the molds, up to half their height. You can also use a spoon, but using a piping bag is much simpler.
Bake at 190ºC for about 15 minutes (or less), until golden and a stick inserted into the bears comes out dry. Remove, cool on a cooling rack.
Turn the cooled bears onto their bellies, and stuff them with Nutella.
Enjoy!