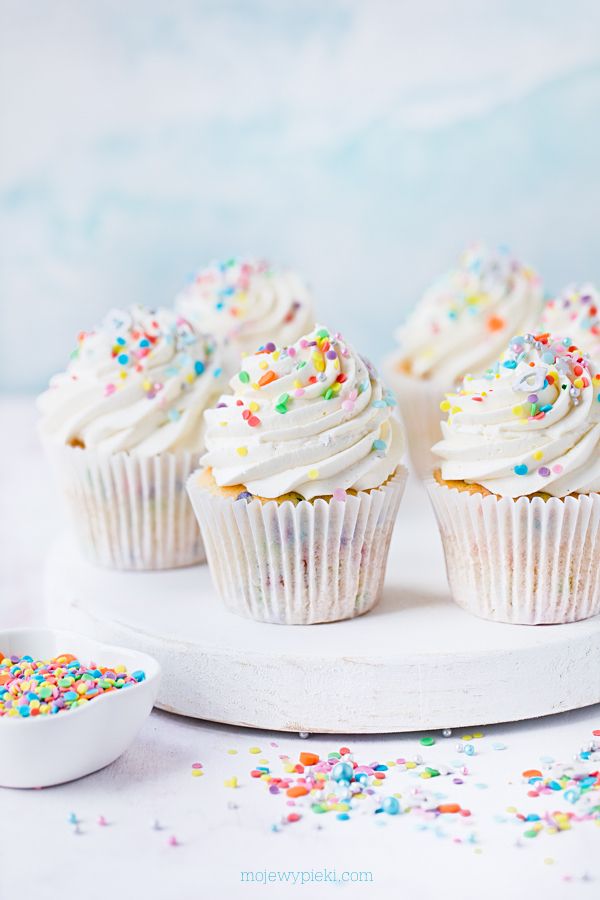 Simple and delicious confetti cupcakes. Perfect for kids' parties of any ages. It is a basic cupcake batter with rainbow sugar sprinkles added to it. The cupcakes are finished off with mascarpone cream and sprinkled with confetti sprinkle. So yummy and sweet!
Ingredients for 12 cupcakes:
160 g butter
120 g caster sugar
180 g plain flour
1.5 tsp baking powder
3 eggs
1 tsp vanilla paste or seeds from 1 vanilla pod
3 Tbsp milk
30 g sugar confetti sprinkles
All ingredients should be at room temperature. Sift the plain flour with baking powder, set aside.
In a mixing bowl, beat together the butter and sugar until light and fluffy. Add in the eggs, one after the other, beating continuously after each addition. Add in vanilla paste and mix.
Add the sifted dry ingredients into the mixture and mix with a spatula until combined, no longer. Add in milk, gently mix. Add confetti sprinkles and mix.
Line a muffin tin with 12 cupcake cases. Evenly divide the batter, filling the cases up to 3/4 of their height.
Bake at 170°C for about 25 minutes or until a stick inserted into the cupcakes comes out dry. Remove and leave to cool on a cooling rack.
Ingredients for mascarpone cream:
700 ml whipping cream, chilled
250 g mascarpone cheese, chilled
2 – 3 Tbsp icing sugar
1 tsp vanilla paste or seeds from 1 vanilla pod
sugar confetti sprinkles, for decoration
In a mixing bowl, add in all of the ingredients apart from the confetti sprinkles. Beat until light and fluffy.
Note: if you only want to add one layer of cream on each cupcake, reduce the ingredients for the cream by half (I added a lot of cream on mine).
Place the mascarpone cream into a piping bag with a decorative tip (e.g. Wilton 1M). Decorate the cupcakes by squeezing out the cream and then sprinkle with confetti sprinkles.
Store in the fridge.
Enjoy!