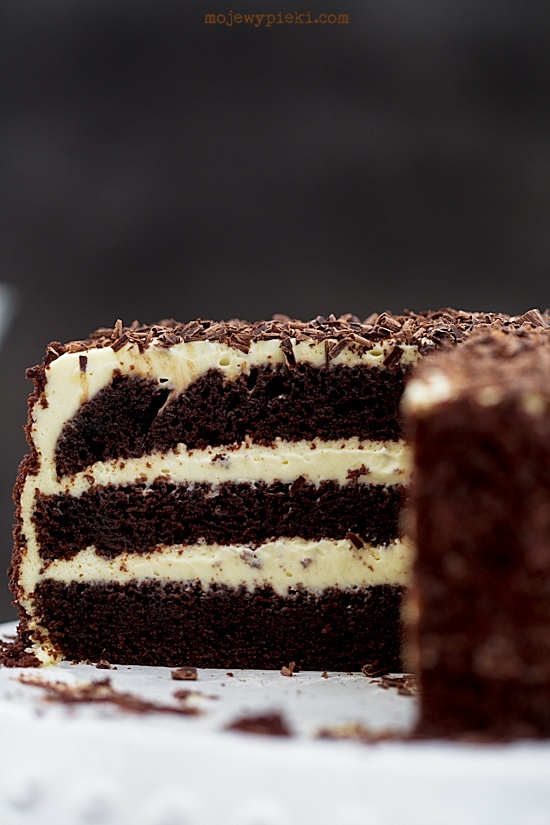 Impressive boozy torte for a special occasions. Advocaat-soaked three layer chocolate cake with an advocaat cream filling between the layers. The whole cake is covered with a more scrumptious advocaat cream and sprinkled with chocolate crumbs. It's a truly decadent dessert with a large amount of alcohol ;-). And it's for adults only.
Ingredients for the chocolate cake:
4 large eggs
200 ml milk
170 ml rapeseed or sunflower oil
1.5 cup soft brown sugar
1 tsp vanilla extract
200 g plain flour
80 g cocoa
1 Tbsp natural or instant coffee powder
1/2 tsp bicarbonate of soda
1 and 1/4 tsp baking powder
All ingredients should be at room temperature.
Into a larger bowl, put: eggs, milk, oil, sugar, vanilla and mix until smooth. Sift the plain flour, cocoa, baking powder, bicarbonate of soda and coffee powder directly into the mixture. Mix gently with the spatula or balloon whisker only to combine the ingredients.
Prepare a baking pan with a diameter of 20 cm lined with baking paper. Pour the batter into the prepared pan.
Bake at 170ºC for about 60 minutes or longer, until a skewer inserted into the centre of the cake comes out clean. Remove from the oven, cool.
Level a cooled cake with a serrated knife and crumble the cut-off part, set aside. Cut the levelled cake horizontally into 3 layers.
Advocaat cream:
350 ml milk
250 ml advocaat liqueur
6 egg yolks
80 g sugar
35 g plain flour
35 g cornstarch or potato starch
500 g mascarpone cheese, chilled
First make an advocaat custard. In a saucepan bring the milk just to boiling. Remove from heat and mix with the advocaat liqueur.
In a mixer bowl, mix the sugar and egg yolks together until pale. Sift the flour and cornstarch together and then add to the egg mixture, mixing until you get a smooth paste.
Add egg mixture to the milk and mix with a balloon whisker. Cook over medium heat until boiling, whisking constantly. When it boils, whisk mixture constantly for another 1 minute until it becomes thick. Remove from heat. Pour into a bowl and immediately cover the surface with plastic wrap to prevent a crust from forming. Cool to room temperature, then chill in the refrigerator.
Put the mascarpone cheese into your bowl and beat. Carefully add chilled advocaat custard and beat until incorporated and smooth.
Additionally:
1/2 cup (125 ml) coffee liqueur
a few squares of dark chocolate
Method:
Place the first layer on the plate. Lightly soak. Spread evenly with 1/3 of the amount of Advocaat cream. Cover with a second layer, soak, then spread with half of the remaining cream. Cover with the last chocolate cake layer, soak. Spread the sides and top of the cake with the remaining cream. Cover the sides of the cake with chocolate crumbs, pressing them to the cake. Sprinkle some grated chocolate on the top. Chill for 12 hours.
Store in the refrigerator.
Enjoy!