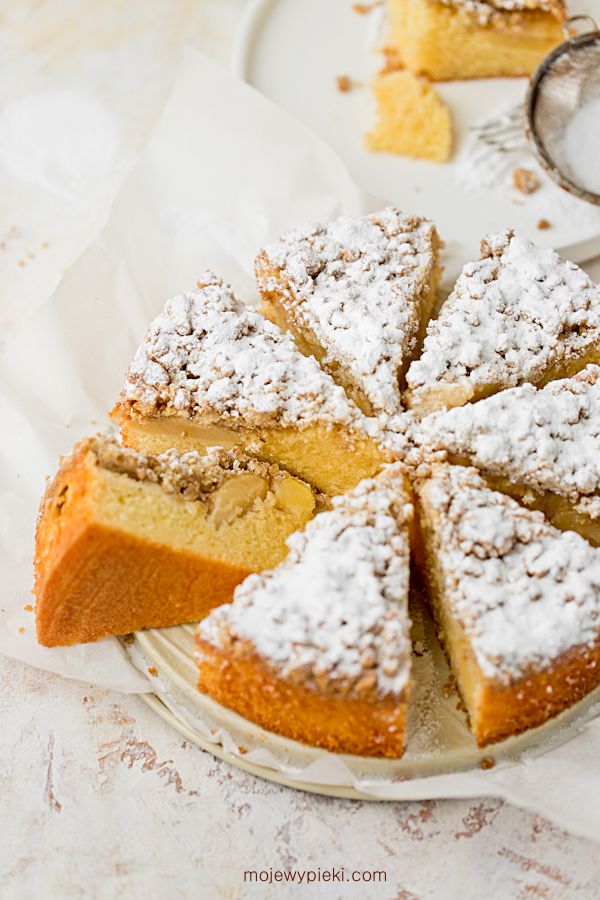 A soft and tender apple cake topped with lots of walnut crumbs! Walnuts add so much taste and texture to the crumble. Perfect accompaniment to a cup of coffee or a milk :).
Ingredients:
150 g butter
140 g caster sugar
3 large eggs
1 tsp vanilla extract
125 g soured cream
220 g plain flour
1 and 1/4 tsp baking powder
3 – 4  medium sized apples
All ingredients should be at room temperature.
Peel, core and quarter the apples.
Cream the butter and the sugar together in a bowl until pale and fluffy. Add the eggs, one at a time, beating well after each addition (the batter will curdle slightly at this step, but it won't make any difference to the finished cake). Add vanilla and mix. Add the sifted flour, baking powder, then soured cream, and stir with spatula until just combined.
Prepare a baking pan with a diameter of 23 cm lined with baking paper. Spread the batter into the prepared pan. Top with the apples followed by the crumb topping.
Bake at 160ºC for 45 minutes or longer, until a skewer inserted into the centre of the cake comes out clean. Remove from the oven, cool.
Walnut crumble:
75 g plain flour
75 g walnuts or pecans, chopped
1/2 cup light brown sugar
a pinch of salt
60 g butter, melted
Melt the butter in a small pot. Add the remaining ingredients and mix with a fork or rub between your fingers to get the crumble.
Enjoy!