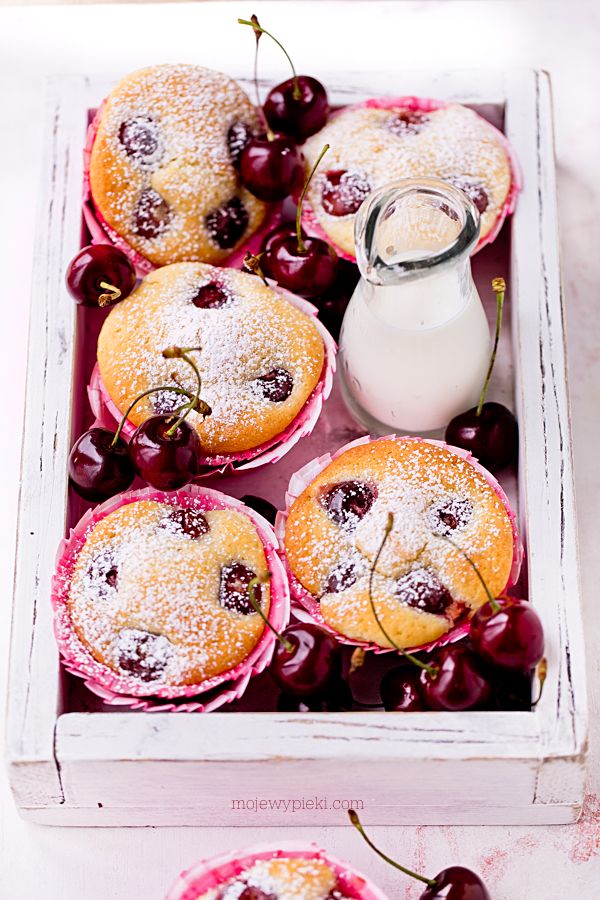 The best buttery muffins with cherries. They're delicious with a beautiful hint of vanilla and so easy to make. Buttery and moist with a soft and cakey consistency and prepared with basic ingredients!
Ingredients for 12 muffins:
115 g butter
120 g caster sugar
8 g vanilla sugar (or seeds from 1 vanilla pod)
2 large eggs
125 g soured cream
60 ml milk
250 g plain flour
2 tsp baking powder
36 cherries
All ingredients should be at room temperature.
In a large bowl, add in melted and slightly cooled butter, sugar, vanilla sugar, eggs, soured cream and milk. Mix with a whisk until combined. Add in sifted flour and baking powder.
Line a muffin tin with 12 muffin cases. Equally separate the muffin batter between the cases. Into each muffin, push in 3 cherries with their pits removed.
Bake at 170°C for about 25 minutes or until a stick inserted into the muffins comes out dry. Remove, cool on a cooling rack. Before serving, sprinkle with icing sugar (not necessary).
Enjoy!