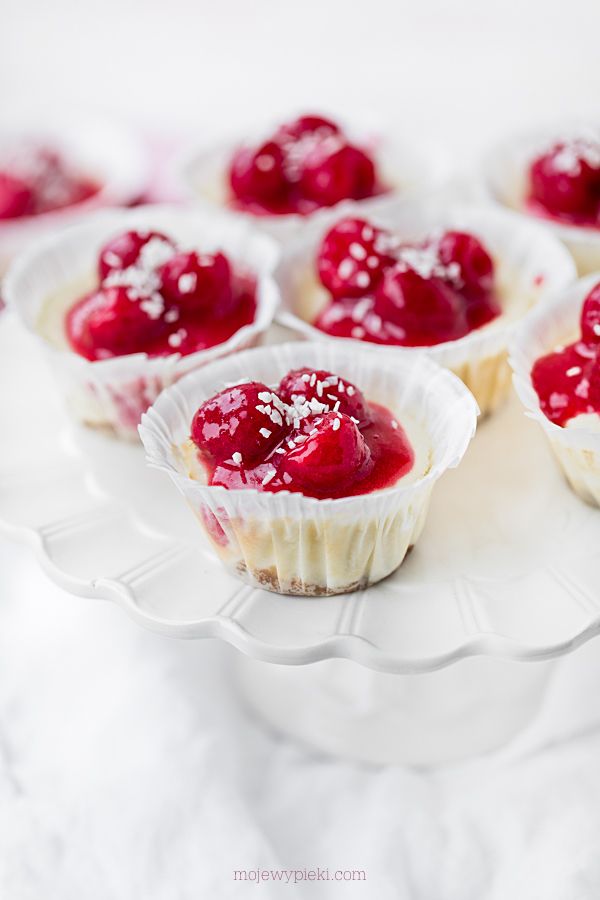 A light and creamy coconut cheesecakes, with a tart raspberry topping and a biscuit base. The coconut cheesecake batter is delicious and is served with raspberry jelly (or fruit filling) on top. It tastes of summer!
Ingredients for 10 mini cheesecakes:
5 digestive biscuits (or any other wholegrain biscuits)
250 g full-fat or semi-fat curd cheese, minced 3 times
250 g ricotta cheese
1/2 cup caster sugar
1 large egg
125 ml coconut cream*
1/4 cup desiccated coconut
15 g potato or corn starch
All ingredients should be at room temperature.
Line a muffin tin with muffin cases. Crush up half of a digestive biscuit and place it at the bottom of each muffin case. If the biscuits are small, you can add more than a half.
In a mixing bowl, add in curd cheese, ricotta cheese, sugar, an egg, potato starch, desiccated coconut and coconut cream. Mix together until the cheesecake batter is smooth. However, don't mix for too long so that the batter isn't aerated. Divide the cheesecake batter between the muffin cases, evenly.
Bake at 160°C for about 28-30 minutes. Remove from the oven, cool.
Serve with raspberry jelly or fruit filling.
* I used canned coconut milk: place 1 can of coconut milk to cool in the fridge for 24 hours. After this time, carefully remove the milk from the fridge, turn the can upside down and open it. Pour the coconut water into a separate bowl (it's not needed). Remove the remaining thick coconut cream and measure it to how much you need for the recipe.
Enjoy!