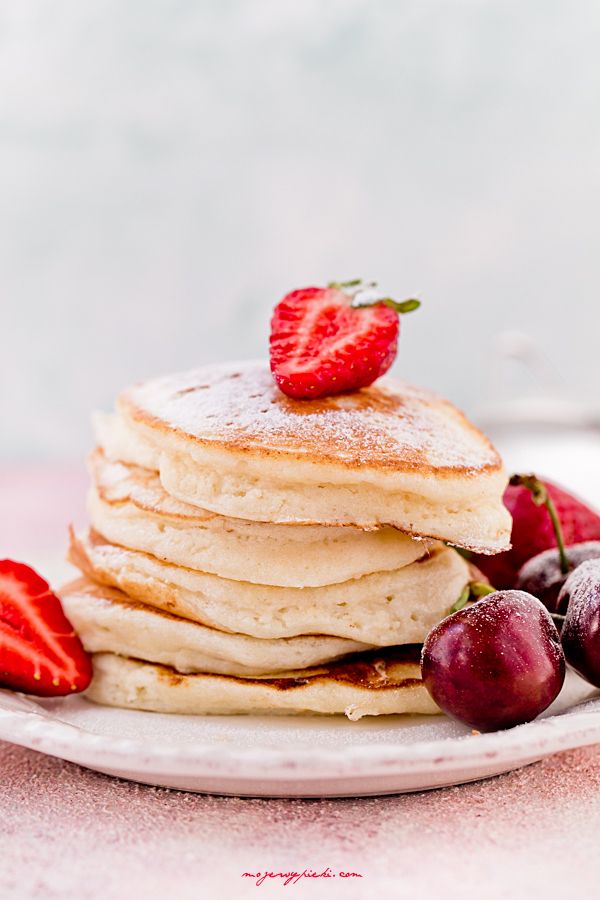 Very delicate, fluffy pancakes, best served warm. Perfect for breakfast! Don't feel guilty about having pancakes first thing in the morning… In this recipe you can use a cream cheese or curd cheese, three times minced. I don't know why, but my husband thinks they taste like racuchy (polish pancakes)… He asked me: Write that they taste like racuchy! So I've finally written my opinion and even though ours differ, I let it slide ;-).
Ingredients:
250 g ricotta cheese
125 ml milk
2 large eggs, separated
100 g plain flour
1 tsp baking powder
pinch of salt
2 tsp oil
optional 2 tsp of sugar, to taste
In a bowl, add in ricotta cheese, milk, sugar and egg yolks and mix until smooth. Add oil and mix. Sprinkle the flour mixed with the baking powder, salt and mix well to combine. Beat the egg whites until they become foamy, and then gently fold them into the ricotta mixture.
Heat the oil in a frying pan (not too much) and spoon the dough in portions. Fry briefly on both sides, until golden brown. Serve with fruit and/or syrup.
Enjoy :-).
Source of recipe – 'Forever Summer' Nigella Lawson.