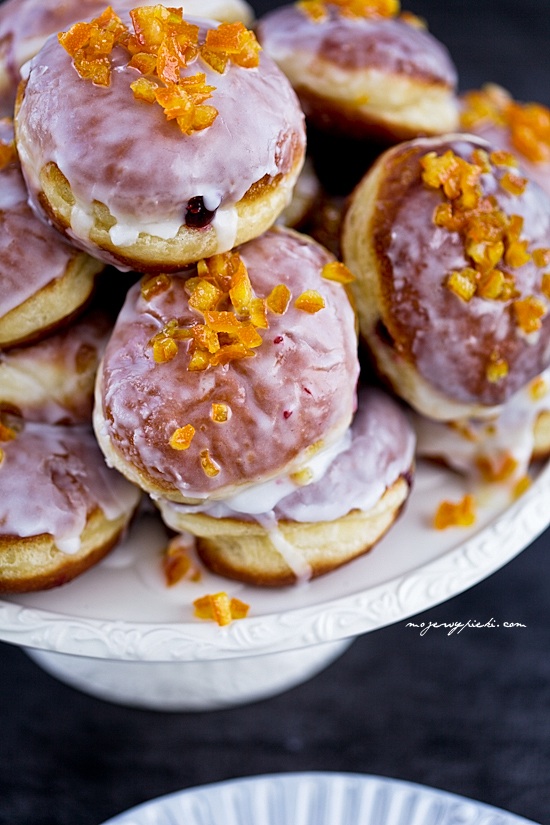 In Poland pączki are eaten on Fat Thursday (Tłusty Czwartek) in February to mark the last Thursday before Lent fasting begins. Pączki are made from especially rich dough containing a lot of eggs, butter, sugar, yeast and milk. Traditionally, they are filled with rose petal jam, deep fried in lard and glaze with icing. This is my oldest and most loved recipe for pączki – Polish doughnuts. This recipe has never let me down – I've tried and tested it many times. They're really delicious!
Ingredients for about 35 doughnuts:
1 kg plain flour
50 g fresh yeast or 21 g dried yeast
100 – 150 g sugar
500 ml milk
6 egg yolks
1 egg
100 g butter or 5 Tbsp oil
seeds of 1/2 vanilla pod (or a small packet of vanillin sugar)
40 ml dark rum or vodka
freshly squeezed juice and zest of 1/2 small lemon
1/2 tsp salt
Additionally:
1 litre oil for deep frying (rapeseed oil or coconut oil or traditionally – lard)
jam, for filling (traditionally – rose petal jam)
icing sugar, for a glaze
Sift plain flour and mix with dried yeast (with fresh ones, first make a leaven). Add remaining ingredients (except the butter or oil) and knead. When the dough is formed add the melted butter (or oil) and knead again. Knead until the dough is smooth, stretchy and elastic (you can knead by hands or in the bowl of your stand mixer using the dough hook). Form the dough into a round ball and put in the lightly floured bowl. Cover with a towel and let rise in warm place until doubled in size (about 1.5 hours).
Turn dough out onto a lightly floured surface. Shortly knead the dough and divide into similar size balls (about 60 g each). Place the balls on a baking sheet sprinkled with plain flour. Cover them with a towel and let rise in warm place until doubled in size (about 25 – 35 minutes).
In a large pot, heat oil to 175ºC. Place pączki in the oil, a few at a time, and fry, on both sides, until golden brown. Remove, drain on a paper towel. Using a pastry bag with filling tip, pipe the filling into the sides of the pączki. Dust with icing sugar or drizzle with icing and top with candied orange peel, if desired.
Basic icing:
1 cup icing sugar
2 – 3 Tbsp lemon juice or hot water
Combine the icing sugar with hot water (or lemon juice) in medium bowl until smooth. Add an extra water or icing sugar to get a desired consistency.
Making in a bread machine:
Place all the ingredients in the bread machine in the order: the liquids, dry ingredients and finally dried yeast (or check your owner's manual and use the order recommended specifically for your machine). Choose the dough setting and press start. When the entire cycle is finished remove the dough and continue to follow the recipe above.
Pączki are best eaten on the day they are made but can be stored in an airtight container at room temperature for up to 2 days.
Enjoy!