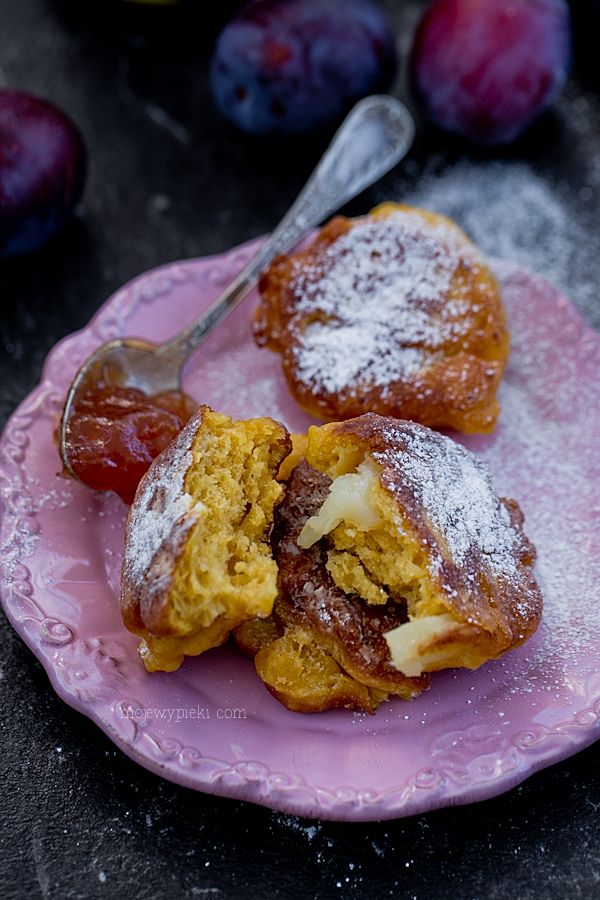 The best pumpkin and apple racuchy! You can call them also polish – style pancakes. An addition of the yeast in this recipe creates a super thick and fluffy pancakes. No eggs are added to the recipe because I didn't feel that they were needed – the pumpkin puree tastes very good in the racuchy without them. Thanks to this, the racuchy are light as a cloud :-). They don't smell or taste strongly of pumpkin, but it gives them a wonderful light orange colour. Also, I added apple slices to the batter before I left it aside to rise. Traditionally racuchy are served lightly sprinkled with icing sugar. They taste so good! 
Ingredients for two plates of racuchy:
500 g plain flour
30 g fresh yeast or 15 g dried yeast
pinch of salt
2 Tbsp sugar
1.5 cups lukewarm milk
1 cup pumpkin puree*
1 Tbsp vanilla extract or vodka
4 large apples
Also:
frying oil
icing sugar for dusting
Note: 1 cup is equal to 250 ml.
Peel and core the apples. Cut into slices.
Into a bowl, add in sifted flour, a pinch of salt and mix, creating a "well" in the centre of the flour. Place the fresh yeast into the middle (if you're using dried yeast, just mix it into the flour), cover with sugar and pour 1/2 cup of lukewarm milk. Cover with a kitchen towel and leave in a warm place for 15 minutes.
After this time (when the leaven is ready), pour in the rest of the milk, add pumpkin puree, vanilla extract and mix with spatula. The dough should not be too runny (but it can't be too thick). To make the consistency right, either add a tablespoon of flour or milk. Add in the apple slices, mix with spatula. Set aside for about 1 hour in a warm place to rise (and double in volume).
Pour oil into a cup – this prevents the batter from getting stuck to the spoon. Dip a tablespoon into the oil, then take a full spoonful of batter and fry in hot oil over a medium heat. Make sure that the oil is not too hot as racuchy can burn quickly, whilst still being raw inside.  Fry on from both sides to a golden colour.
Serve with plum or pear jam or just simply dust with icing sugar.
* You can use ready-made canned or homemade pumpkin puree.
Enjoy!