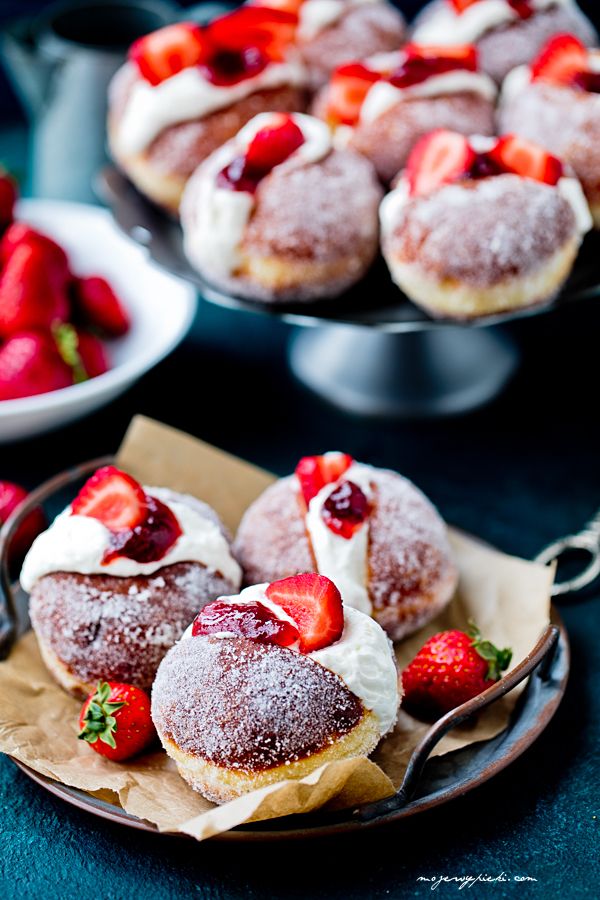 Mini doughnuts stuffed with whipped cream and strawberries. Coated in sugar. They're half the size of traditional doughnuts but don't worry, the whipped cream with strawberries really fills you up ;-). 
Ingredients for 21 mini doughnuts:
420 g plain flour
10 g dry yeast or 20 g fresh yeast
75 g caster sugar
75 g butter, melted and cooled
170 ml milk
2 large eggs
fresh zest from 1 orange
half a tsp salt
Sift the plain flour and mix with dry yeast (with fresh yeast, first make the leaven).
Add the rest of the ingredients and knead, adding melted butter at the end. Knead for a few minutes until the dough is smooth and elastic (even though the dough will be slightly sticky, try not to add any extra flour). I recommend using a mixer with a dough hook attachment or a bread machine. Form the dough into a ball and place it in a bowl previously sprinkled with flour. Cover and set aside in a warm place to double in volume (about 1.5 hrs).
After this time, place the dough on a floured surface and briefly knead. Tear off pieces of dough (about 40 g for one doughnut) and form balls from each part. Place on a kitchen towel sprinkled with flour. Cover the donuts and leave in a warm place to double in volume (about 25 – 35 minutes depending on the temperature). The donuts should have risen well but not be overgrown.
In a large pot, heat oil to 175ºC. Place doughnuts in the oil, a few at a time, and fry, on both sides, until golden brown. The temperature of the oil should not be too high, this is because the donuts will quickly brown from the outside, and inside they will still be raw. Immediately after frying, place on kitchen roll to soak up the excess oil. Whilst they are still warm, coat in caster sugar.
Also:
1/2 cup caster sugar, to coat doughnuts
300 ml whipping cream, chilled
1 tsp icing sugar
a few Tbsp strawberry jam
200 g strawberries, cut into pieces
In a bowl, beat the whipping cream with icing sugar. Cut the doughnuts along the middle, to about 3/4 down the doughnut. Place the cream into a piping bag and fill the doughnut, remembering to leave space for a teaspoon of jam and the strawberries.
Making in a bread machine:
Place all the ingredients in the bread machine in the order: the liquids, dry ingredients and finally dried yeast (or check your owner's manual and use the order recommended specifically for your machine). Choose the dough setting and press start. When the entire cycle is finished remove the dough and continue to follow the recipe above.
Enjoy!