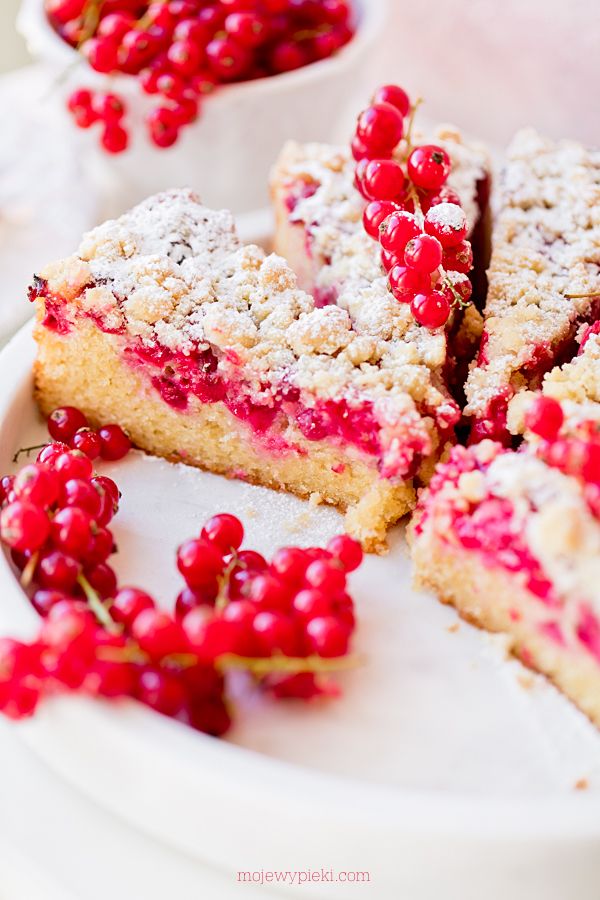 A recipe for tasty almond redcurrant cake. The redcurrants add a slight sour taste to the dessert. Topped off with crumble and a dusting of icing sugar – the perfect cake for the summer!
Ingredients for the cake:
150 g butter
180 g caster sugar
3 large eggs
150 g plain flour
100 g ground almonds
2 tsp baking powder
150 g soured cream, 18%
1 Tbsp Amaretto liqueur
450 g redcurrants (or a mixture of different currants)
All ingredients should be at room temperature. De-stem redcurrants.
In a mixing bowl, add in butter and sugar. Beat until light and fluffy. Add in the eggs, one after the other, beating continuously after each addition. The batter may look 'broken' however this doesn't affect the cake in any way. Add in sifted plain flour and baking powder into the batter, followed by ground almonds, soured cream and Amaretto. Stir using a spatula until just combined, no longer.
Line a 23 cm cake tin with baking paper. Put in the cake batter, level out. Sprinkle with redcurrants on top, then sprinkle with crumble (recipe below).
Bake at 170°C for about 45 – 60 minutes, until a skewer inserted into the cake comes out dry. Take it out of the oven and let it cool down. Before serving, sprinkle with icing sugar.
Ingredients for the crumble:
50 g butter, melted
100 g plain flour
50 g sugar
Place all the ingredients for the crumble in a bowl and rub in between your fingers.
Enjoy!