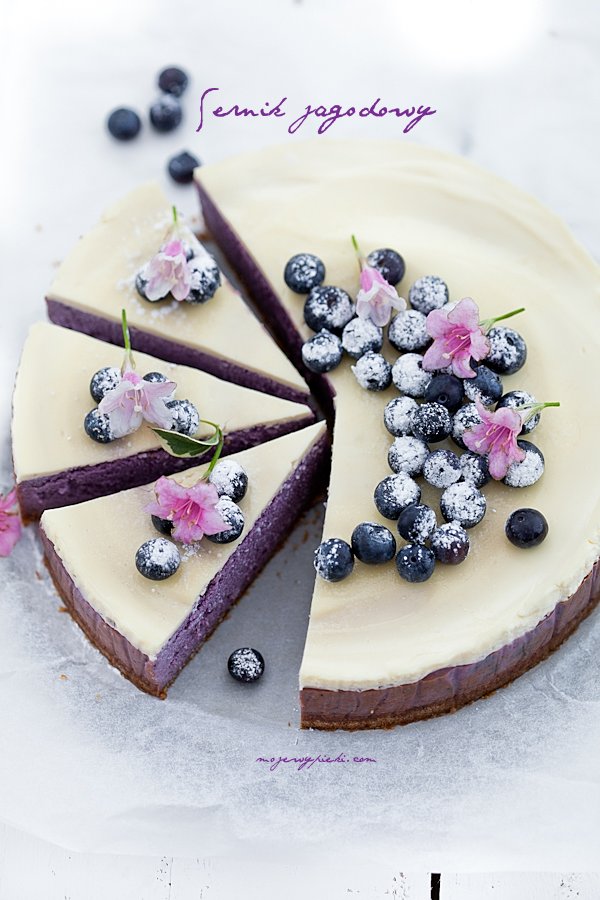 Light and creamy blueberry cheesecake and a nice delicious summer dessert. Its vibrant and amazing colour gets from the wild blueberries. Nestled on top of a crumbly biscuit base and topped with vanilla soured cream reminds me of 'London cheesecake' by Nigella Lawson. It really steals the show at dinner parties!
Ingredients for the base:
150 g digestive biscuits
50 g butter, melted
Process the biscuits in a food processor until they resemble fine breadcrumbs. Add the butter and process until well combined (you can also put the digestive biscuits in a plastic bag and crush to crumbs using a rolling pin and then mix with melted butter).
Line the bottom of a 23 cm springform pan with parchment paper. Press biscuit mixture evenly into the bottom of the springform pan. Put the tin in the fridge to set for 30 minutes.
Cheesecake filling:
750 g curd cheese, minced 3 times
2 tsp vanilla extract
220 g caster sugar
4 eggs
2 Tbsp plain flour
1 Tbsp lemon juice
250 g wild blueberries, blended and passed through a sieve
All ingredients should be at room temperature.
Place all the ingredients in a large bowl and beat until just combined. Pour the cheesecake filling into the chilled base and bake at 150ºC for about 60 – 75 minutes or until set in center. Remove from oven and spread the topping over the hot cheesecake. Return to oven to bake for 10 minutes. Cool in the oven, with the door slightly ajar. Refrigerate overnight.
Decorate before serving.
Topping:
250 ml soured cream or crème fraîche
2 Tbsp icing sugar
1 tsp vanilla extract
In a small bowl, combine the soured cream, sugar, and vanilla extract.
Enjoy!