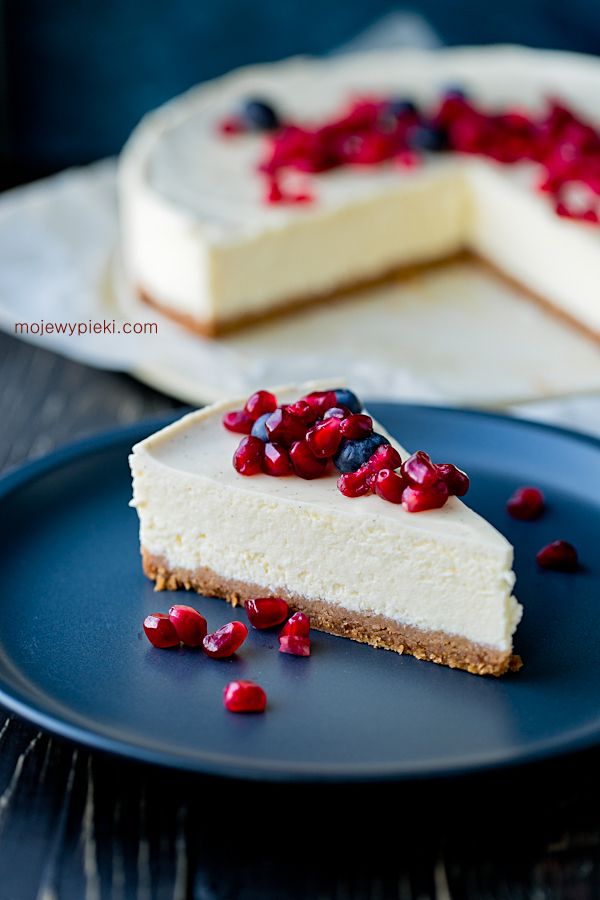 Velvety, firm and smooth, classic London cheesecake by Nigella Lawson. Extra rich (3 eggs and 3 yolks are added into the cheesecake batter) with a soured cream topping.  Baked in a water bath for cheesecake perfection.
Ingredients for the base:
150 g digestive biscuits
60 g butter, melted
Process the biscuits in a food processor until they resemble fine breadcrumbs. Add the butter and process until well combined (you can also put the digestive biscuits in a plastic bag and crush to crumbs using a rolling pin and then mix with melted butter).
Line the bottom of a 20 cm springform pan with parchment paper. Press biscuit mixture evenly into the bottom of the springform pan. Put the tin in the fridge to set for 30 minutes.
Line the outside of the chilled pan twice with strong aluminium foil so that it covers the bottom and sides of the pan. Put it into a roasting dish or a larger baking pan. This will protect the cheesecake from the water as it is baked in its water bath.
Cheesecake filling:
600 g philadelphia cream cheese or curd cheese, minced 3 times
150 g caster sugar
3 large eggs
3 large yolks
1.5 tsp vanilla extract
1.5 Tbsp lemon juice
All ingredients should be at room temperature.
Place all the ingredients in a large bowl and beat until just combined.
Pour the cheesecake filling into the chilled base and bake in a water bath* at 180ºC for about 60 minutes or until set in the centre. Remove from oven and spread the sour cream topping over the hot cheesecake. Return to the oven to bake for a further 10 minutes. Take the cheesecake out from the oven and cool at a room temperature. Then chill in the refrigerator for about 12 hours.
Topping:
145 ml soured cream
1 Tbsp icing sugar
1/2 tsp vanilla extract
In a small bowl, combine the soured cream, sugar, and vanilla extract.
* The cheesecake is baked in a water bath: set wrapped pan in a large roasting pan or a larger baking pan and pour boiling water into roasting pan, about halfway up the sides of cheesecake pan. A water bath, also known as a bain marie, is the secret to cheesecake perfection – the baked cheesecake is beautiful, creamy and with no cracks.
Enjoy!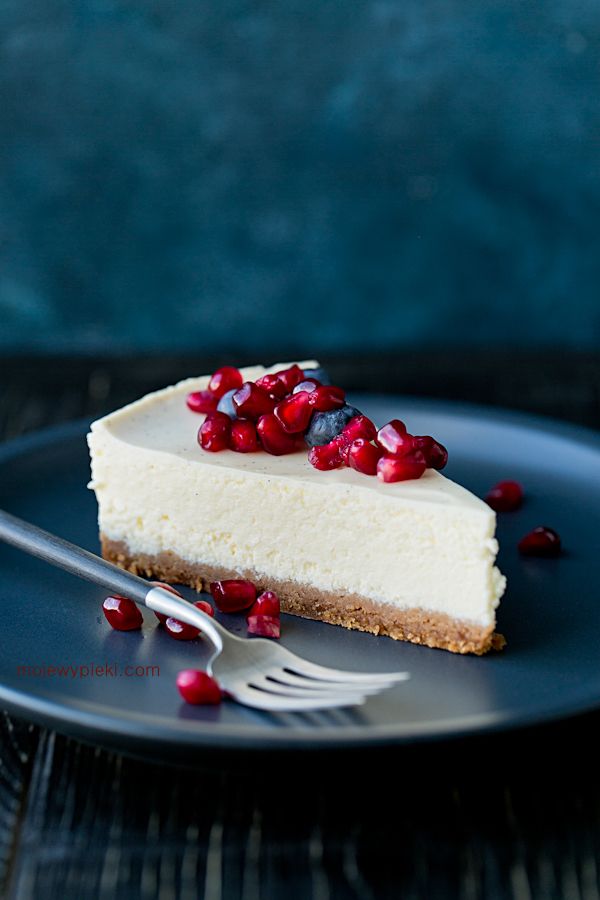 Author of the recipe – Nigella Lawson.