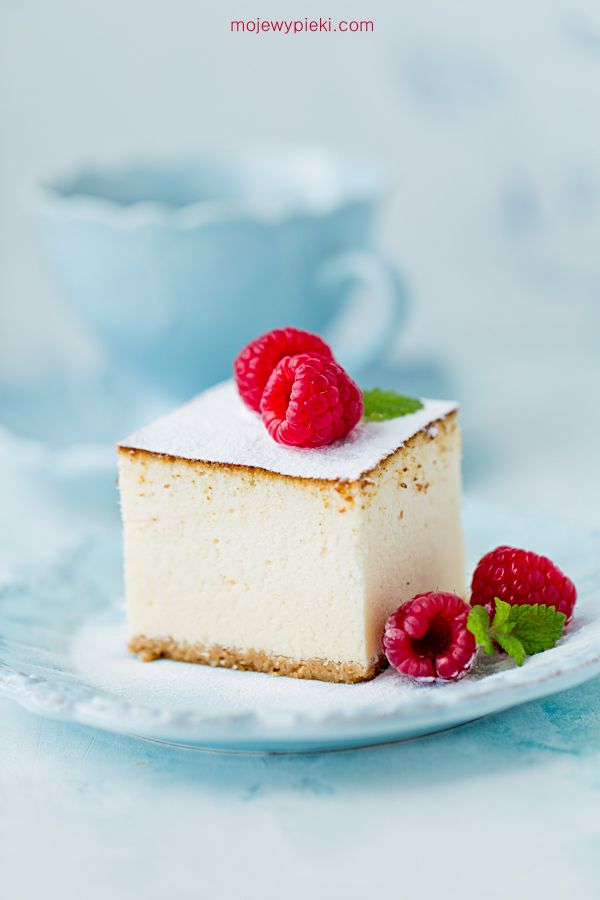 Any season is the perfect time to bake a fluffy cheesecake ;). This time, a cheesecake with lots of milk powder. This recipe will remind you a lot of a previous cheesecake you can find on the blog, 'as fluffy as a cloud' cheesecake. It is just as delicate and… very fluffy! The combination of different cheesecake recipes all combined together to make the dreamiest dessert…. Served with seasonal fruit or fruit sauce. I highly recommend!
Ingredients for the base:
about 20 'Petit-Beurre' biscuits
Line a baking pan with dimensions of 31 x 22 cm and a height of 6 cm with baking paper. Put the biscuits on the bottom of the form, one next to the other, if necessary, cutting them to fit the size of the baking pan.
Ingredients for the cheesecake batter:
1 kg semi-skimmed or full-fat curd cheese, ground three times
6 eggs, separate the egg whites from the egg yolks
1 cup (220 g) caster sugar
1 packet vanillin sugar (16 g)
2 packages vanilla or custard powder without sugar (1 packet weighing 40 g)
3/4 cup rapeseed or sunflower oil
1.5 cups (375 ml) milk
1.5 cups milk powder*
All ingredients should be at room temperature.
Put egg yolks, caster sugar and vanillin sugar in the mixing bowl. Beat until light and fluffy. Add the curd cheese, whilst constantly mixing. Add the custard powder and mix to combine. Pour in the oil and milk to the cheesecake batter, mix. At the end, add in the milk powder and mix to avoid any milk powder lumps in the cheesecake batter (the resulting cheesecake batter will have a thin consistency).
In a separate bowl, beat the egg whites until stiff. Add the beaten egg whites to the cheesecake batter, gently mix with the spatula to combine.
Place the cheesecake batter onto the biscuits that are arranged in the baking pan. Bake at 180ºC for about 60 minutes in a water bath**. The top of the cheesecake will be brown, the cheesecake will grow about 2 cm, and during cooling it will fall evenly to its original height. After baking, cool in an open oven for about 30 minutes, then remove the water bath and put in the oven again, to cool.
It can be stored in the fridge, but it is not necessary.
Before serving, sprinkle with icing sugar.
* I used whole milk powder.
** The cheesecake is baked in a water bath: set wrapped pan in a large roasting pan or a larger baking pan and pour boiling water into roasting pan, about halfway up the sides of cheesecake pan. A water bath, also known as a bain marie, is the secret to cheesecake perfection – the baked cheesecake is beautiful, creamy and with no cracks.
Enjoy!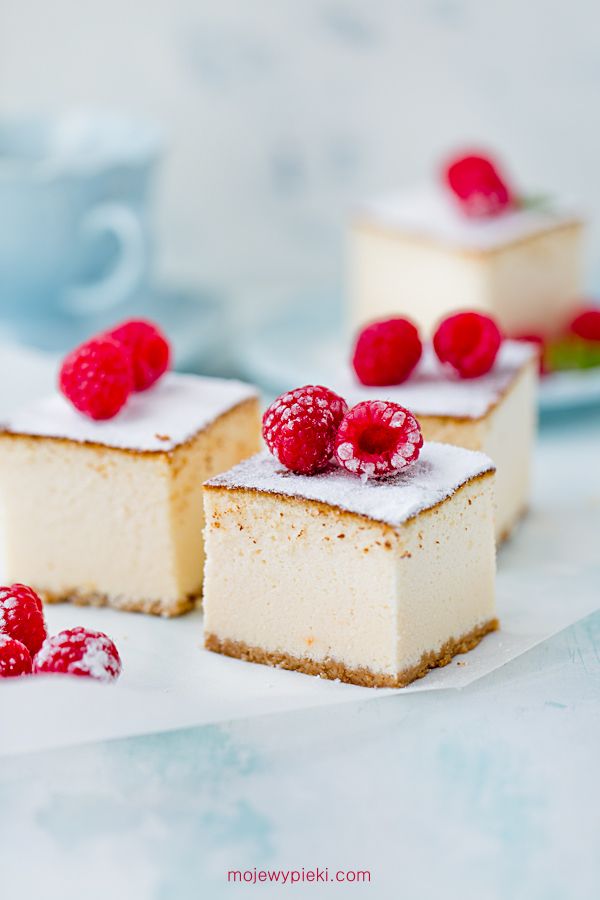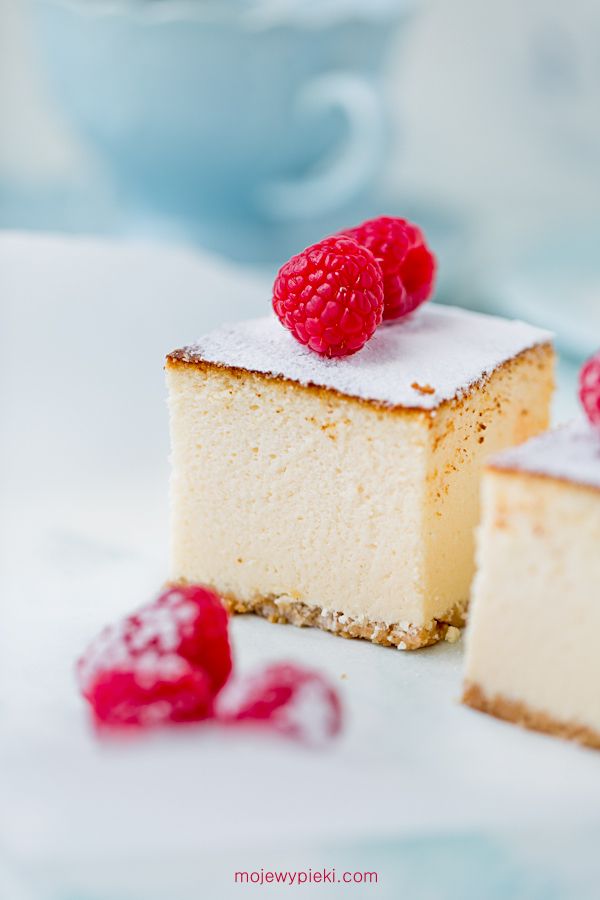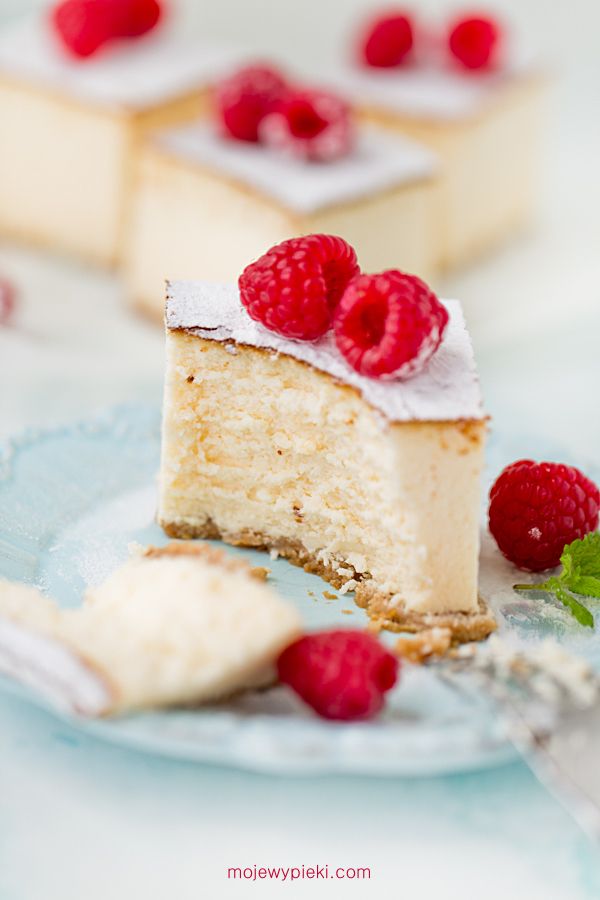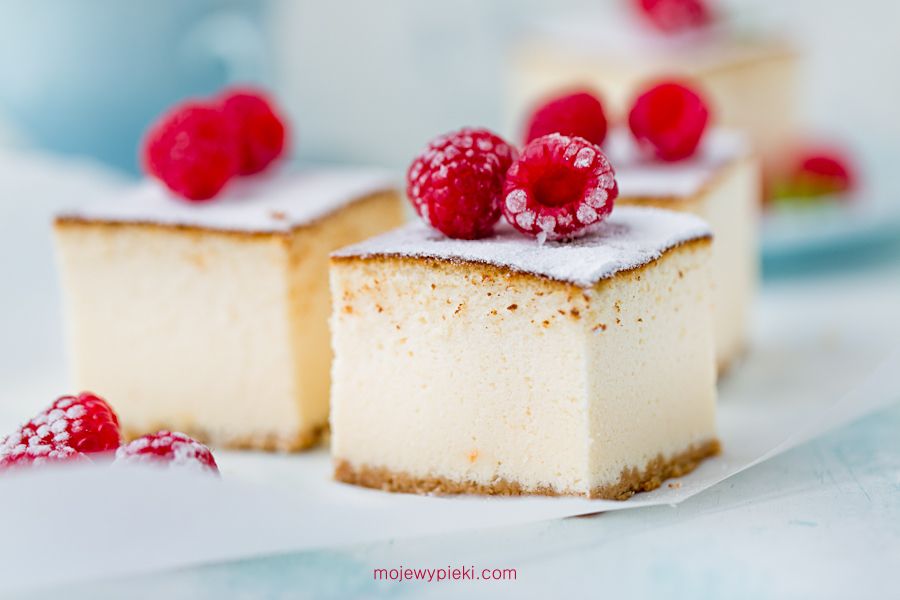 Source of recipe – "Słodko Słodka".