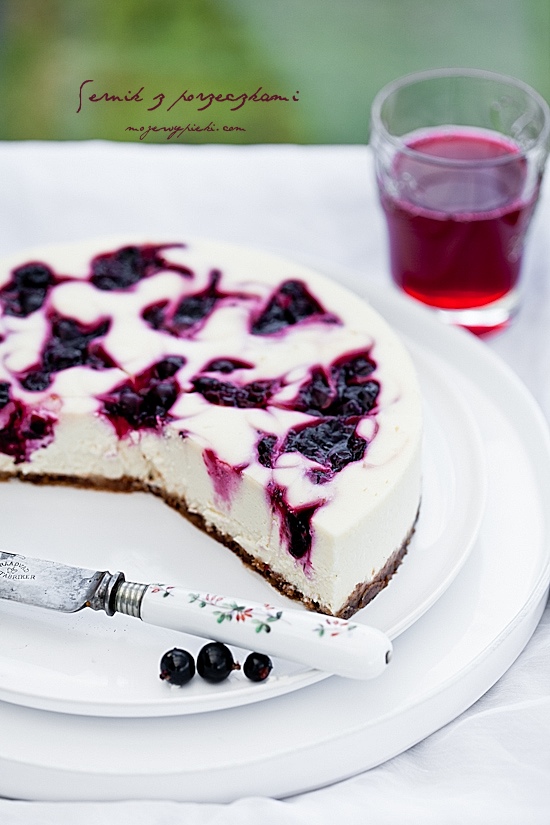 A show-stopping blackcurrant (or redcurrant, if you prefer) swirl cheesecake that is really easy to make. Looks and tastes delicious! The cheesecake texture is complemented by a vibrant blackcurrant filling. You can easily use frozen blackcurrants in this recipe – so you can enjoy this cheesecake all year round.
Ingredients for the base:
180 g dark chocolate digestive biscuits
60 g butter, melted
Process the biscuits in a food processor until they resemble fine breadcrumbs. Add the butter and process until well combined (you can also put the digestive biscuits in a plastic bag and crush to crumbs using a rolling pin and then mix with melted butter).
Line the bottom of a 23 cm springform pan with baking paper. Press biscuit mixture evenly into the bottom of the springform pan. Put the tin in the fridge to set for 30 minutes.
Line the outside of the chilled pan twice with strong aluminium foil so that it covers the bottom and sides of the pan. Put it into a roasting dish or a larger baking pan. This will protect the cheesecake from the water as it is baked in its water bath.
Cheesecake filling:
750 g curd cheese, minced 3 times
250 ml whipping (or double) cream
3 large eggs
1 cup caster sugar
2 Tbsp potato starch or corn starch
1 Tbsp plain flour
1 tsp vanilla paste or vanilla extract
All ingredients should be at room temperature.
Place all the ingredients in a large bowl and beat until just combined.
Pour the cheesecake filling into the chilled base. Dollop spoonfuls of the blackberry filling into the cheesecake and gently swirl through using a skewer.
Bake in a water bath* at 150ºC for about 60 – 70 minutes or until set in the centre. Take the cheesecake out from the oven and cool at a room temperature. Then cool in the refrigerator for about 12 hours.
Blackberry filling:
250 g blackcurrants, fresh or frozen
3 Tbsp sugar
1 Tbsp potato starch or cornstarch + 1 Tbsp of water
Place 1 Tbsp of water in the bowl. Put the corn starch into the water. Stir the mixture with a spoon so lumps don't form. Stir until the mixture is fully combined.
In a small pan, heat the blackberries and sugar over a low heat until the blackberries soften and sugar disappears. Add corn starch mixture while the pan's still on the heat and stir for a further minute or two, until thickened. Set aside to cool.
* The cheesecake is baked in a water bath: set wrapped pan in a large roasting pan or a larger baking pan and pour boiling water into roasting pan, about halfway up the sides of cheesecake pan. A water bath, also known as a bain marie, is the secret to cheesecake perfection – the baked cheesecake is beautiful, creamy and with no cracks.
Enjoy!