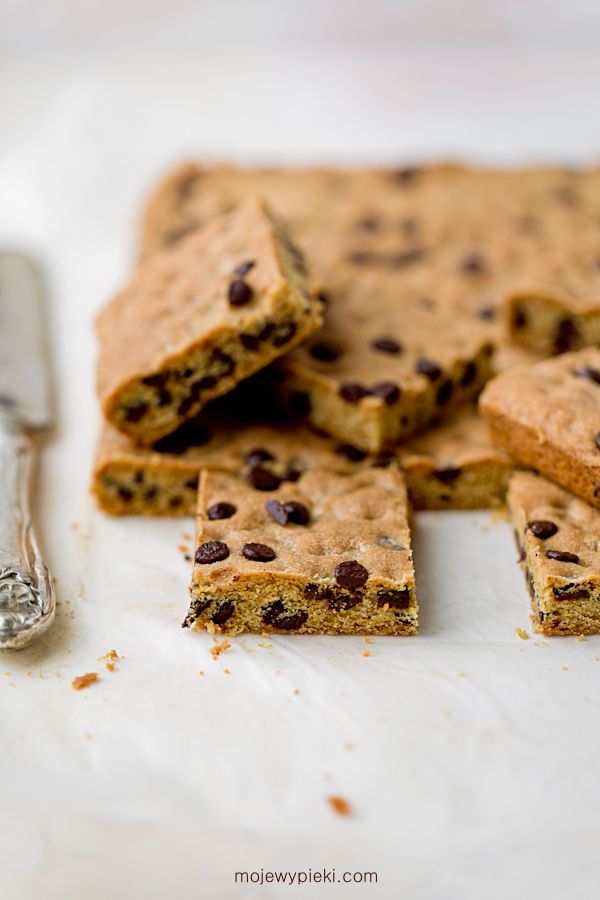 Your favourite cookie in a giant version! Instead of scooping and forming every individual cookie one by one, place the dough altogether into the baking pan and cut up into squares after baking. So much time is saved ;-). Even better, you can bake a massive cookie in a circular baking pan and cut into triangles; you will need 2 springforms with a diameter of 21 cm. The cookies are thicker than traditional cookies, delicately chewy and soft in the middle. They taste good to anyone at any age.
Ingredients:
115 g butter
100 g light brown sugar
50 g caster sugar
1 tsp vanilla extract
1 large egg
200 g plain flour
1/2 tsp baking soda
1/2 tsp salt
200 g milk or dark chocolate chips or finely chopped chocolate
 All ingredients should be at room temperature.
Cream the butter and both sugars together in a bowl until pale and fluffy. Add the egg and vanilla, beat well. Add flour, bicarbonate of soda, salt and mix until just combined. Add most of the chocolate chips (leave a small handful to sprinkle on top) and mix, only to combine the ingredients.
Prepare a 23 x 33 cm baking pan lined with baking paper. Spread the cookie dough out evenly in pan. Sprinkle the dough with the remaining chocolate chips.
Bake at 175ºC for about 20 – 22 minutes or until the edges are golden brown. Remove from the oven, cool, cut into squares.
Enjoy!