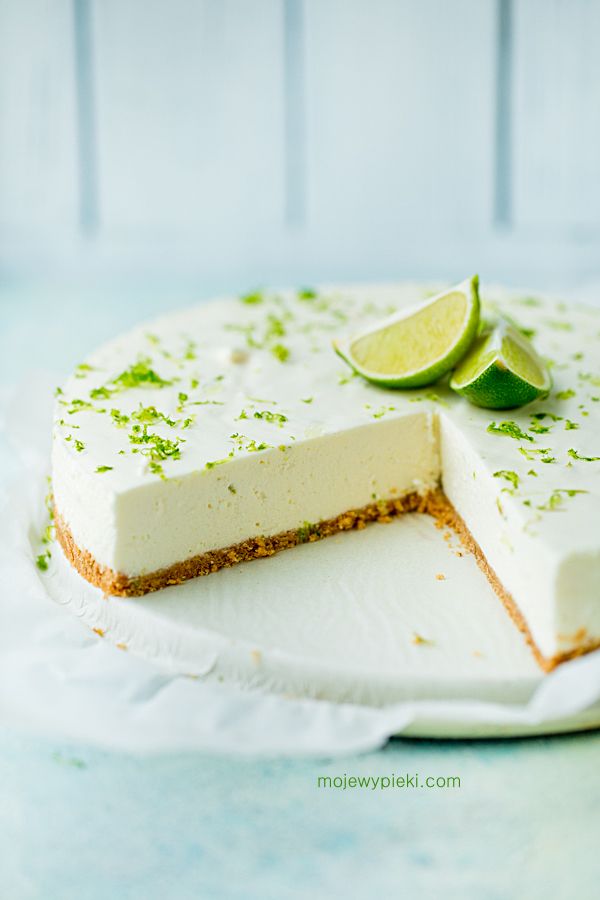 Stunning citrusy dessert. The most perfect and easy no-bake lime cheesecake. By following this no-bake cheesecake recipe, you'll be gifted with a smooth, light, and creamy dessert that sets up beautifully in the refrigerator. One of the most important steps are whipping the cream into stiff peaks before folding into the filling and refrigerating the cheesecake overnight.
Ingredients for the base:
160 g digestive biscuits
40 g butter, melted
Process the biscuits in a food processor until they resemble fine breadcrumbs. Add the butter and process until well combined (you can also put the digestive biscuits in a plastic bag and crush to crumbs using a rolling pin and then mix with melted butter).
Line the bottom of a 23 cm springform pan with parchment paper. Press biscuit mixture evenly into the bottom of the springform pan. Put the tin in the fridge to set for 30 minutes.
Cheesecake filling:
1 cup Greek yoghurt, at room temperature
250 g mascarpone, at room temperature
1/2 cup icing sugar
finely grated zest and juice of 1 limes (unwaxed)
1 cup whipping cream, chilled
10 g gelatine powder (3.5 tsp) or 4 gelatine leaves + 50 ml water
Place Greek yoghurt, mascarpone, icing sugar, lime zest and lime juice in a mixing bowl and beat until just combined.
Mix the powdered gelatine with 50 ml of cold water, leave to soak for 10 minutes. Place on the hob and heat, stirring, until the gelatine completely dissolves or heat in the microwave. Do not boil (the gelatine will lose its gelling properties). Remove from the hob and cool slightly until no longer hot to the touch.
Add a tablespoon of cheesecake batter to the gelatine, mix it well. Add another 2 tablespoons of cheesecake batter to the gelatine and mix again, checking if there are any lumps. Add the rest of gelatine and mix, to combine the ingredients. Both mixtures should be a similar temperature to avoid any lumps.
Pour the whipping cream into another bowl. Whip until stiff. Add it to the cheesecake batter and mix gently.
Pour the mixture onto the prepared cookie crust and spread into an even layer. Cover and chill in the fridge for 5 – 6 hours, or preferably overnight.
Additionally:
1 lime sliced into quarters, for decoration
grated zest of 1 lime, for sprinkling
Before serving, decorate the cheesecake with grated lime peel. Serve with lime quarters.
Enjoy!