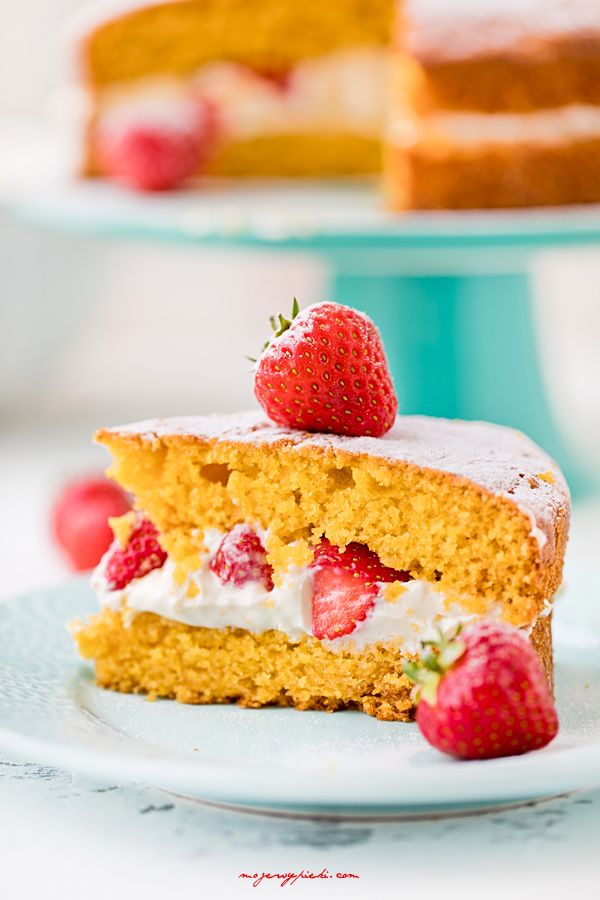 A delicious and moist mango and yogurt cake. A cake full of fruit – perfect for the summer. It smells so beautifully of mangos! Sprinkled with a layer of icing sugar. I went one step further and sandwiched the cake with cream made from Greek yogurt, mascarpone and strawberries. It's perfect!
Ingredients for the mango cake:
100 g butter
3/4 cup caster sugar
1 large egg
250 g mango puree
3/4 cup buttermilk or kefir or yogurt
300 g plain flour
1.5 tsp baking powder
1 tsp baking soda
All ingredients should be at room temperature.
Line a round baking tin (23 cm in diameter) with baking paper.
In a mixing bowl, beat together the butter and sugar until light and fluffy. Add in the egg and mix until combined (the mixture might look a bit 'broken' but this doesn't affect the cake). Add in mango puree and buttermilk, mix with a whisk until combined. Add in sifted flour, baking powder and baking soda, mix with a spatula. Place the cake batter into the baking tin and level out.
Bake at 170°C for about 45 – 50 minutes or longer, until a stick inserted into the cake comes out dry. Take out of the oven and leave to cool in the tin. Then, remove the cake and place it on a cooling rack to cool.
Mascarpone and yogurt cream:
220 g mascarpone cheese, chilled
120 g thick Greek yogurt, chilled
1.5 – 2 Tbsp icing sugar (or to taste)
1 tsp vanilla paste
In a mixing bowl, add in all of the ingredients and beat until a smooth cream.
Also:
250 g strawberries, hulled and cut in half
Cut the mango cake into 2 layers. Place one of the parts on a cake stand. Spread with the cream and place the strawberries on top. Sandwich with the other layer and sprinkle with icing sugar. Decorate with any remaining strawberries.
Enjoy!