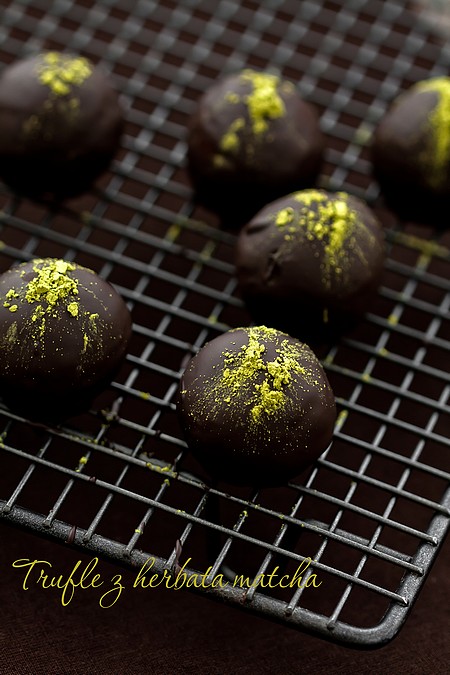 Truffles with a surprising green inside, made from the Japanese ingredient matcha tea. Matcha, in the form of a green powder, is quite efficient and gives desserts a strong aroma, which is why only 1 teaspoon will give the truffles enough flavour. Use your favourite chocolate to coat the truffles with. 
Ingredients for 10 truffles:
200 g white chocolate, chopped
60 ml (1/4 cup) whipping cream
1 tsp matcha green tea, sifted
80 g milk or dark chocolate for coating
In a pot, slightly warm up the whipping cream. Add the matcha and whisk well until the matcha dissolves. Remove from the hob, add chopped chocolate, whisk well until the chocolate melts and your mixture is smooth (or put the chocolate in a pot over steam and continue melting the chocolate that way, stirring only occasionally). Cool in the fridge.
After a few hours or the next day, form truffles in the size of small walnuts. Cover in milk or dark chocolate (melted over steam) and put on baking paper. After the chocolate has set, sprinkle with matcha green tea.
Enjoy!