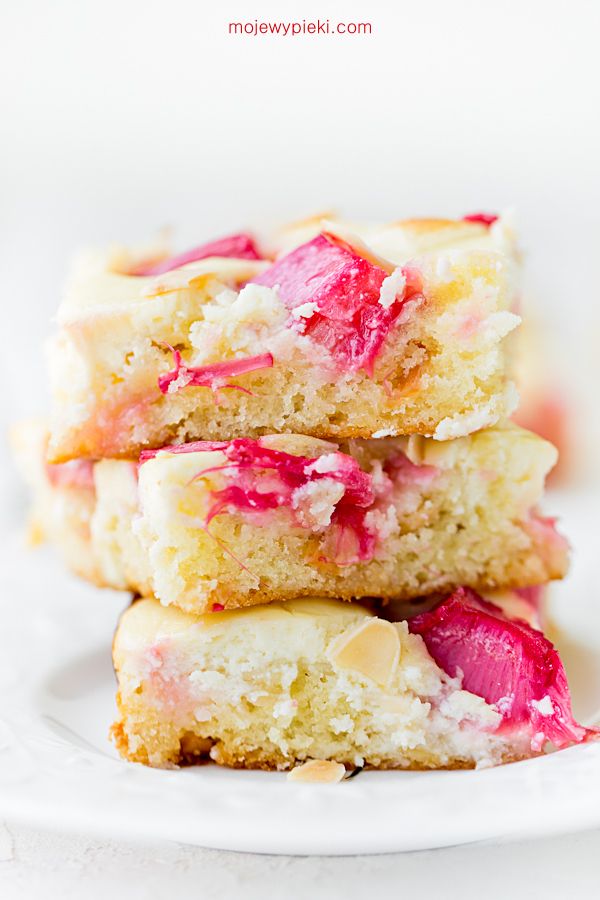 A sweet combination of blondie cake (similar to brownies however fluffier and made with white chocolate) with cheesecake and sour rhubarb. Anyone with a sweet tooth will be a fan of these blondies, especially since a cake made with white chocolate should be sweet, right? It is worth waiting until the cake has cooled down to the end, although it is hard to resist not eating it. You don't need to store it in the fridge, only during hot weather.
Ingredients for the dough:
150 g white chocolate, chopped
80 g butter
1/3 cup caster sugar
2 eggs
3/4 cup plain flour
pinch of salt
1 tsp baking powder
1 tsp vanilla extract
half a cup chopped almonds
50 g white chocolate or white chocolate chips, chopped
All ingredients should be at room temperature.
Melt the butter in a pot and remove from the heat. Add chopped white chocolate (150 g), let stand for 2 minutes. After this time, mix to make a smooth chocolate sauce (if necessary, place through a sieve). Cool slightly.
Pour the chocolate sauce into a large bowl. Add eggs, sugar, salt, vanilla extract and mix with a whisk to combine the ingredients. Directly to these ingredients, sieve the plain flour and baking powder, mix with a whisk. At the end, add chopped almonds and chopped white chocolate (or white chocolate chips), mix.
Line a baking pan (23 x 33 cm) with baking paper. Place the thick cake butter into the pan and even with a spatula. Randomly, blot the cheesecake batter on top of the cake batter, mix with the skewer. Spread the rhubarb evenly on top. Bake at 180ºC for about 25 – 28 minutes. Check with a stick – the cake is ready when the stick is moist, but there such be no traces of raw cake on it. Remove from the oven, cool and cut into squares.
Ingredients for the roasted rhubarb:
300 g rhubarb, cut into 2 cm pieces (don't peel the rhubarb)
30 g sugar
Mix all ingredients and place in an oven-safe dish or on a baking tray lined with baking paper. Bake at 180ºC for about 15 – 20 minutes to lightly soften the rhubarb (but don't bake for too long, the rhubarb should keep its shape). Remove from the oven, leave to cool (pour out any syrup, you will not need it).
Ingredients for the cheesecake batter:
250 g full fat or semi-fat curd cheese, ground three times
2 egg yolks (from large eggs)
40 g sugar
1 tsp vanilla extract or 8 g vanillin sugar
All ingredients should be at room temperature.
In a bowl, add in all of the ingredients and mix well with the back of a large spoon, until smooth and combined. Put aside.
Enjoy :-).