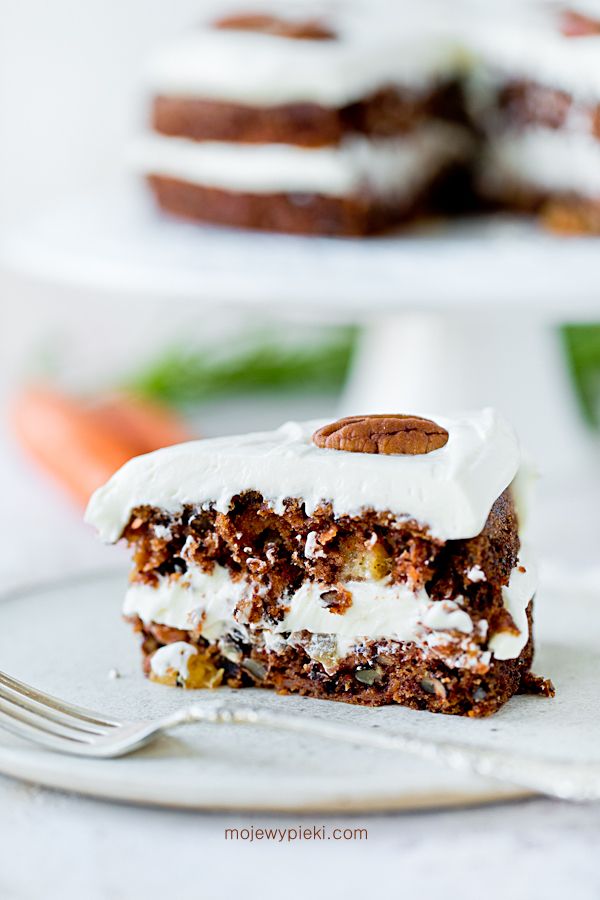 My favourite recipe for homemade carrot cake. This cake is easy to make, incredibly moist, spiced and topped with a rich creamy philadelphia frosting. Made with walnuts (or pecans), cinnamon and pineapple. You can prepare this cake without lots of fancy equipment – just bowls, a whisk and spatula. And it's really the best cake ever – tried and tested many times!
Ingredients:
2/3 cup plain flour
1/2 cup caster sugar
1 tsp bicarbonate of soda
3/4 tsp baking powder
1/2 tsp ground cinnamon
1/4 tsp ground cloves
1/4 tsp freshly grated nutmeg
1/4 tsp ground allspice
1/4 tsp salt
1/3 cup vegetable oil or walnut oil
2 eggs
1 cup chopped walnuts
1/2 cup chopped, drained pineapple
All ingredients should be at room temperature.
In a bowl, whisk together the sifted flour, caster sugar, bicarbonate of soda, baking powder, spices, and salt. In another bowl, whisk together the oil and eggs until blended, and then stir the egg mixture into the flour with a spatula. Fold in the walnuts, pineapple, grated carrot and stir.
Grease and line a 20 cm springform cake tin. Spoon the batter into the prepared pan.
Bake at 175ºC for about 40 – 45 minutes or until a skewer inserted into the centre of the cake comes out clean. Remove from the oven, cool.
Cream cheese frosting:
300 g philadelphia cream cheese, at room temperature
90 g butter, at room temperature
1 cup icing sugar, sifted
1 tsp vanilla extract or vanilla paste
Cream the butter and the sugar together in a bowl until pale and fluffy. Add vanilla and beat. Add cream cheese and beat until fluffy.
Cut the cooled cake in half horizontally through the middle. Spread half the frosting on one cake, sit the other cake on top, and spread the remaining frosting on top. Decorate the top of the cake with the walnuts and sprinkle with a cinnamon, if you wish.
Enjoy!