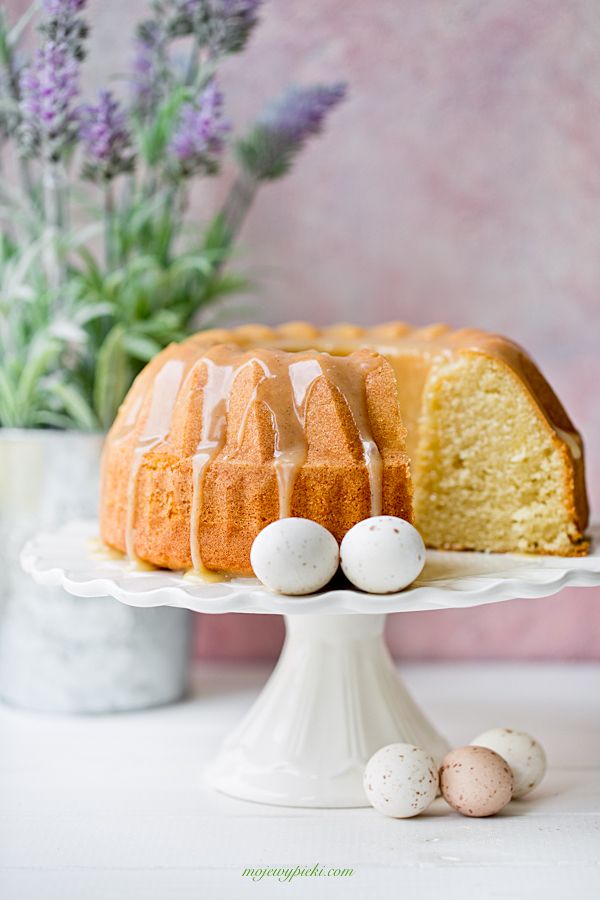 Simple yet amazing vanilla bundt cake. Delicious in flavor, buttery, perfectly sweet with a lot of vanilla and a white chocolate glaze. Elegant on the Easter table but also tasty with a glass of milk or tea :).
Ingredients:
225 g butter
1 cup caster sugar
4 large eggs
2 Tbsp vanilla extract or seeds of 1 vanilla pod
270 g plain flour
60 g potato starch
2 tsp baking powder
4 Tbsp milk
All ingredients should be at room temperature.
Cream the butter and the sugar together in a bowl until pale and fluffy. Add the eggs, one at a time, beating well after each addition (the batter will curdle slightly at this step, but it won't make any difference to the finished cake). Add vanilla and mix. Add sifted flour, potato starch, baking powder, milk and stir with spatula until just combined.
Prepare bundt tin (with the capacity of 2 litres), butter and sprinkle with flour, shake off the excess flour. Spoon in the batter and level the top with a spoon.
Bake at 160ºC for 45 – 50 minutes or until a skewer inserted into the centre of the cake comes out clean. Remove from the oven, cool, then top with white chocolate glaze.
White chocolate glaze:
50 ml whipping cream 30% or 36%
seeds of 1/2 vanilla pod or 1/2 tsp vanilla powder
100 g white chocolate, chopped
Heat the whipping cream in a small saucepan over medium heat until it is almost boiling. Remove from the heat, add chopped chocolate and vanilla then put away for 2 minutes. After this time, mix until smooth and glossy. Allow the glaze to cool slightly before pouring over a cake.
Enjoy!