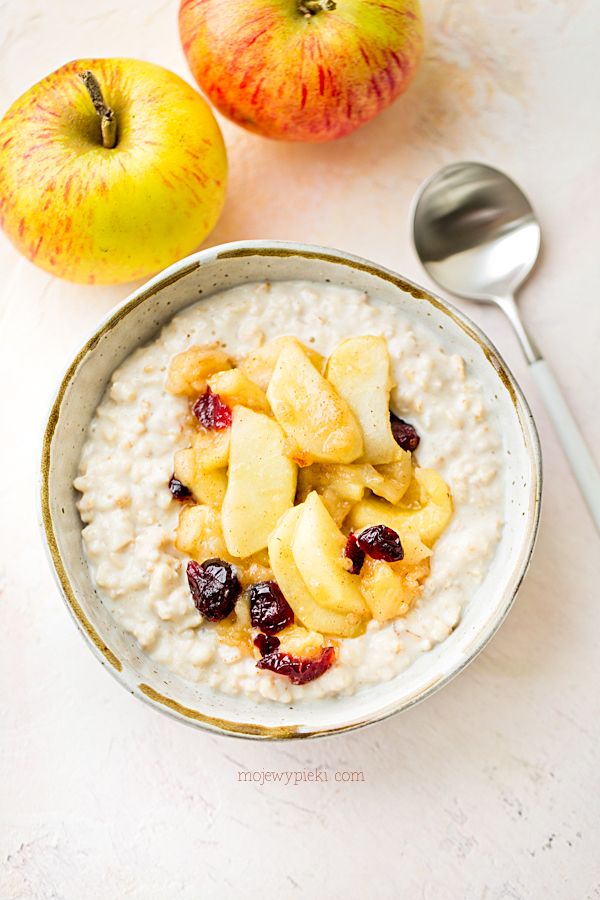 Healthy breakfast recipe – porridge with apples, cranberries and cinnamon. Ridiculously easy to prepare and loaded with vitamins and fibre. You can add some chopped walnuts to make it crunchy!
Ingredients for 4 servings:
1.5 cup rolled oats
1 cup milk
1 and 3/4 cup water
1/2 cup single cream
2 Tbsp sugar
pinch of salt
Place all ingredients in a pot and bring to a boil. Simmer on the minimum heat for about 5 minutes or until the porridge becomes thick, stirring frequently. If necessary, extend the cooking time or add water (depends on individual preferences).
Transfer to a bowls and serve topped with apples and cranberries.
Also:
4 small apples
2 Tbsp butter
3 Tbsp sugar
a large pinch of cinnamon
1.5 Tbsp dried cranberries
Peel and slice the apples.
Melt the butter in a frying pan. Add apples and cook for 5 minutes or until the apples are soft. Add sugar, cinnamon and cook for 2 minutes. Add dried cranberries and stir.
Enjoy!