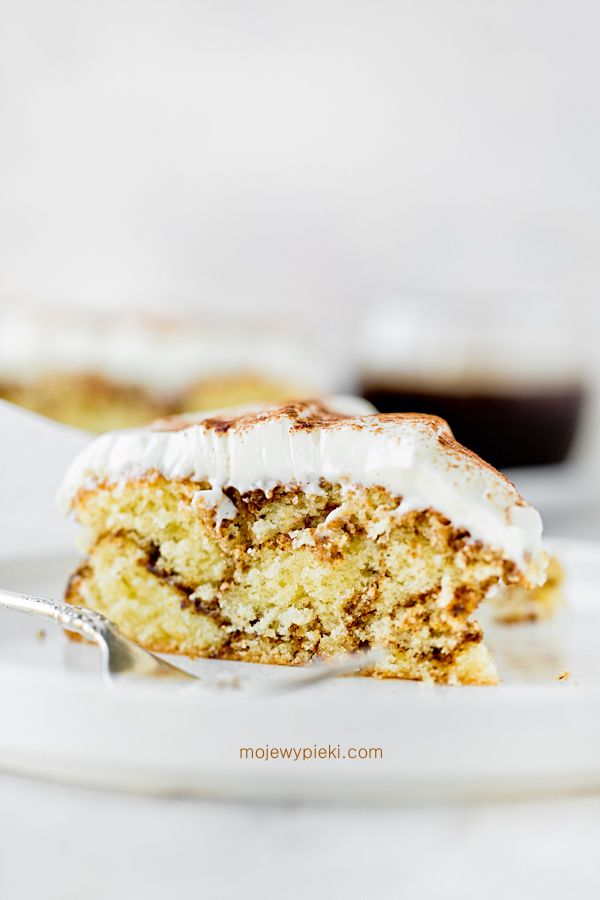 Light and delicious cake with layers of cinnamon swirled in. It is so tender and slightly reminds me of fluffy cinnamon rolls :-). Or maybe cinnabons with a cream cheese frosting? Make sure you try this out!
Ingredients:
125 g butter
120 g caster sugar
8 g vanillin sugar
2 large eggs
180 g plain flour
60 g potato starch
1.5 tsp baking powder
90 g soured cream
All ingredients should be at room temperature.
Cream the butter and the sugars together in a bowl until pale and fluffy. Add the eggs, one at a time, beating well after each addition (the batter will curdle slightly at this step, but it won't make any difference to the finished cake). Add the sifted flour, potato starch, baking powder, then soured cream and stir with spatula until just combined.
Prepare a baking pan with a diameter of 23 cm lined with baking paper. Spread more than half of the batter into the prepared pan. Sprinkle 3/4 cinnamon filling onto the batter then cover with the remaining batter and sprinkle with the remaining cinnamon filling. Use a teaspoon to swirl it through the cake a bit.
Bake at 170ºC for about 40 – 45 minutes or until a skewer inserted into the centre of the cake comes out clean. Remove from the oven, cool. Put the cream cheese frosting on top and sprinkle with additional cinnamon.
Cinnamon filling:
1/2 cup dark or light muscovado sugar
1 Tbsp cinnamon
Combine all ingredients together.
Cream cheese frosting:
200 g philadelphia cheese, at room temperature
1/4 – 1/2 cup icing sugar
1 tsp vanilla extract
3 Tbsp milk
Cream the philadelphia cheese and the sugar together in a bowl until fluffy. Add vanilla, milk and beat again.
Enjoy!