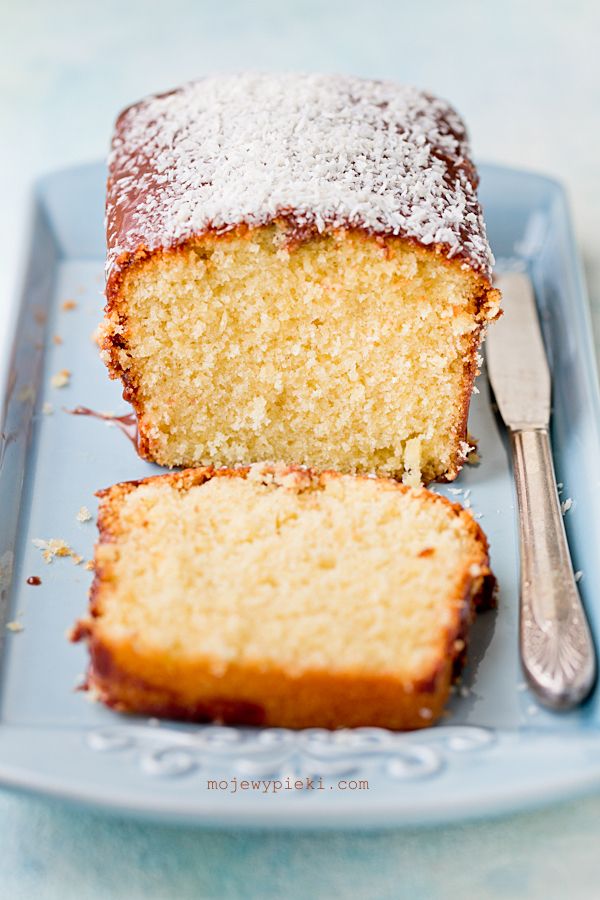 Yummy coconut bundt cake with milk chocolate topping and shredded coconut. The cake is moist and fluffy with a mild coconut flavour and really not difficult to prepare. Tastes excellent with a glass of milk :).
Ingredients:
225 g butter
220 g caster sugar
3 large eggs
3 Tbsp coconut liqueur
300 g plain flour
30 g potato starch
2 tsp baking powder
80 g shredded coconut
90 ml milk
Additionally:
shredded coconut for sprinkling
All ingredients should be at room temperature.
Cream the butter and the sugar together in a bowl until pale and fluffy. Add the eggs, one at a time, beating well after each addition (the batter will curdle slightly at this step, but it won't make any difference to the finished cake). Add coconut liqueur and mix. Add the sifted flour, potato starch, baking powder, then add the milk and shredded coconut. Stir with spatula until just combined.
Prepare a 30 x 11 cm baking pan lined with baking paper. Spread the batter into the prepared pan.
Bake at 160ºC for 45 minutes or longer, until a skewer inserted into the centre of the cake comes out clean. Remove from the oven, cool.
Pour the milk chocolate glaze over the cake and sprinkle with additional shredded coconut.
Milk chocolate glaze:
70 ml whipping cream
120 g milk chocolate chips or chopped milk chocolate
Heat the whipping cream in a small saucepan over medium heat until it is almost boiling. Remove from the heat, add chopped chocolate then put away for 2 minutes. After this time, mix until smooth and glossy. Allow the glaze to cool slightly before pouring over a cake.
Enjoy!