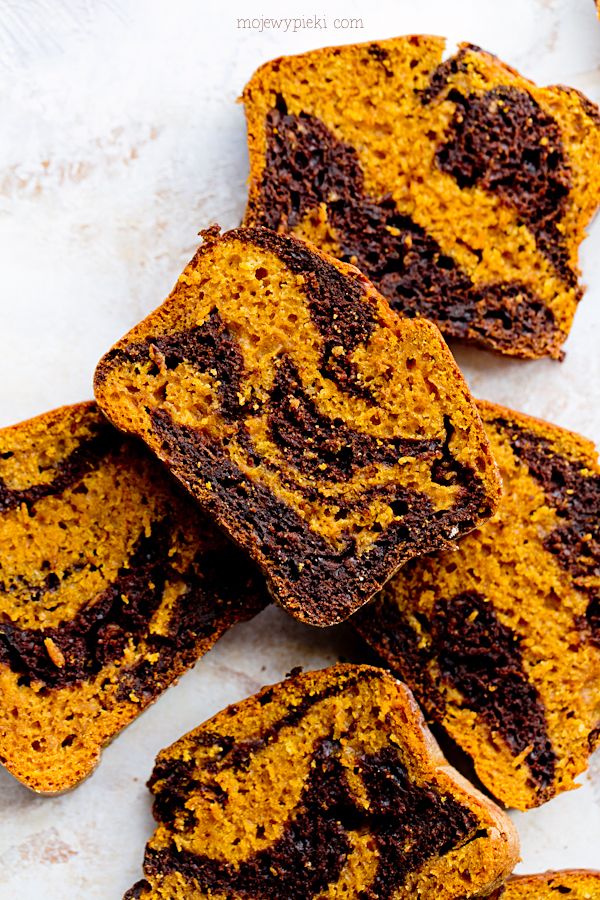 This autumn pumpkin bundt cake is incredibly moist, not too sweet, perfectly spiced. A truly autumn cake, where we use pumpkin puree (homemade or shop-bought). It is also very simple to make – we mix wet and dry ingredients. Delicious with a glass of milk, a slice after a slice…Chocolate and pumpkin are an amazing pair!
Ingredients:
415 g plain flour
150 g caster sugar
200 g light brown sugar
2 and 3/4 tsp baking powder
1 tsp bicarbonate of soda
1 tsp ground cinnamon
1 tsp ground ginger
500 ml pumpkin puree
250 ml (1 cup) buttermilk or kefir
2 large eggs
60 ml sunflower or rapeseed oil
60 g cocoa
All ingredients should be at room temperature.
Into a larger bowl, put: pumpkin puree, 3/4 cup buttermilk, both sugars, eggs, and oil. Mix until smooth. Sift the plain flour, baking powder, baking soda, cinnamon and ginger directly into the mixture. Mix gently with the spatula only to combine the ingredients.
Divide the batter in half and add the cocoa powder and remaining 1/4 cup of buttermilk into one part and mix until combined.
Grease a 3 L bundt pan, sprinkle with flour. Dollop alternating large spoonfuls of pumpkin and chocolate batter into the pan. Use a skewer to swirl the batter a little bit.
Bake at 170ºC for about 60 – 75 minutes or until a skewer inserted into the centre of the cake comes out clean. Remove from the oven and cool.
Enjoy!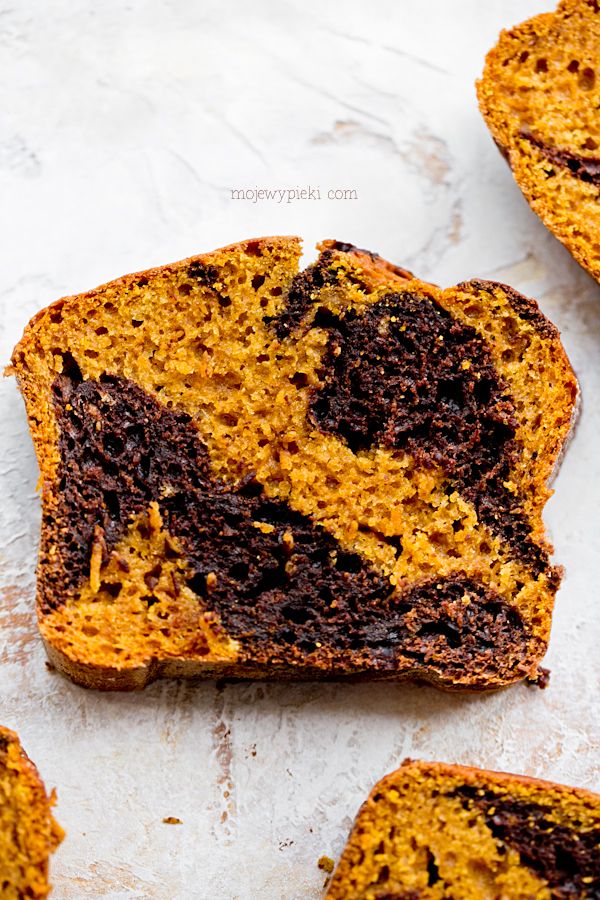 Source of recipe – from the collection of Anna Olson.